Dermatological manifestations of mucormycosis during COVID-19 : IDOJ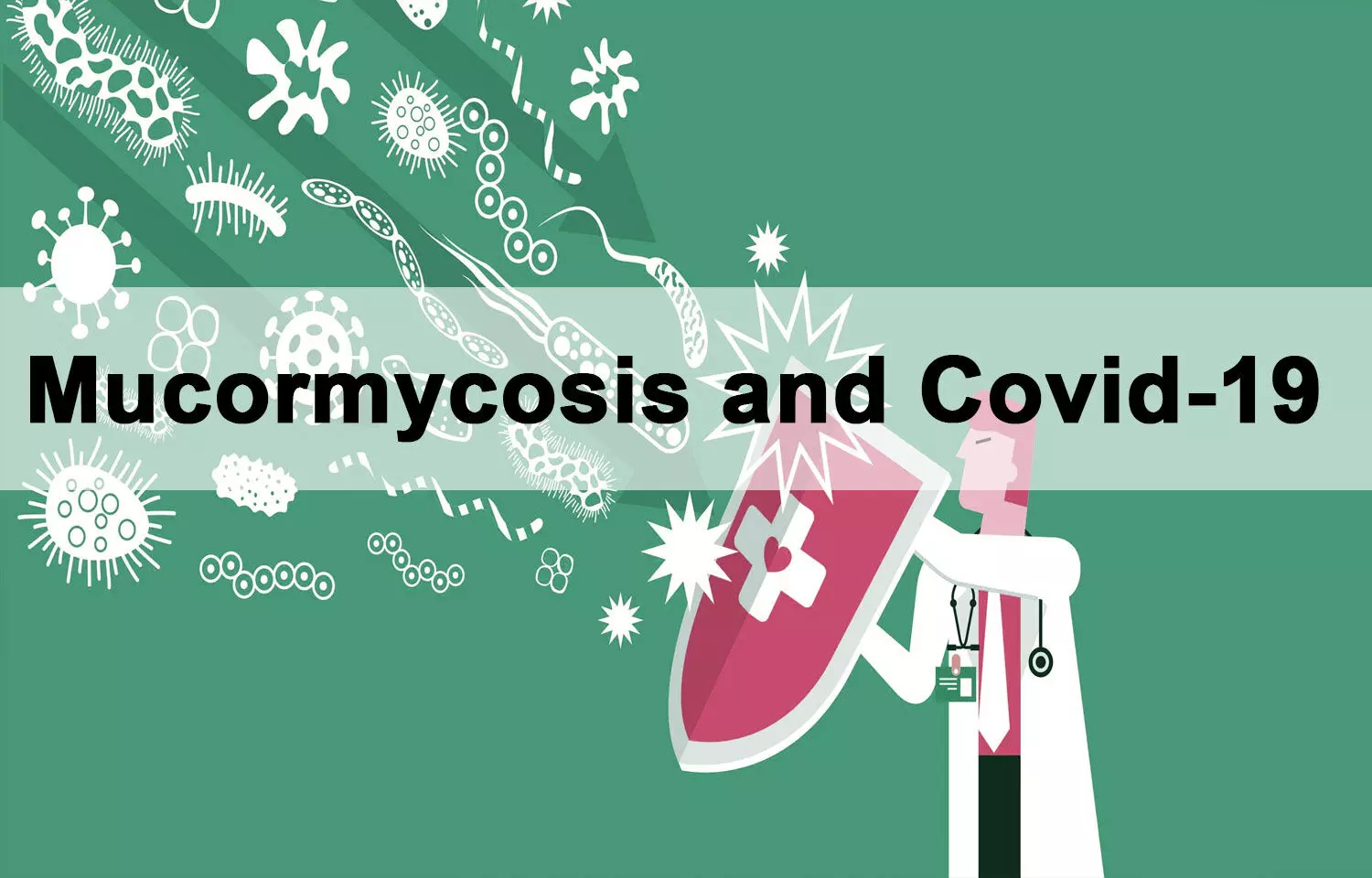 Dermatological manifestations of mucormycosis during COVID-19 : IDOJ Mucormycosis is a fungal infection predominantly occurring in immunocompromised patients due to an ubiquitously present angioinvasive fungi. Mucormycosis is known since 1885 and the term "Black fungus" is a misnomer as "black fungus" or "dematiaceous fungi" is used to denote fungi causing phaeohyphomycosis.1 Though cutaneous involvement is the third most common manifestation of systemic mucormycosis, primary cutaneous mucormycosis is not uncommon in immunocompetent individuals accounting for 40%–50% of such cases.2,3 The interest in mucormycosis has increased recently, due to its association with COVID‑19 infection which was highlighted recently in the Indian Dermatology Online Journal.
COVID‑19‑associated mucormycosis (CAM) has been labelled as a notifiable disease and has become epidemic in India with >30,000 cases reported recently.1,4 There has been a 2.1 times increase in mucormycosis cases in this pandemic compared to pre-COVID era.5

Uncontrolled diabetes mellitus (DM) and prolonged use of corticosteroids are the most common predisposing factors for mucormycosis. In 1/3rd of patients with CAM, COVID ‑19 was the only underlying disease though 78% of them received corticosteroids during the management of COVID‑19. In 20% of CAM cases, DM was detected for the first time during the COVID‑19 disease suggesting the role of SARS‑COV2 in causing diabetes mellitus.5 Rhino‑orbital mucormycosis is the commonest presentation followed by rhino-cerebral and pulmonary mucormycosis.5 Rhizopus arrhizus is the commonest species isolated from CAM cases followed by Rhizomucor pusillus. It was found that he mortality rate (at 6 weeks) in the CAM (38%) is lesser than the non‑CAM cases (45%).
Primary cutaneous mucormycosis- It has two distinct presentations-
Acute necrotizing type
It is commonly seen in immunosuppressed individuals and at the site of trauma. It presents as erythematous macules, pustules, infiltrative plaques and retiform lesions rapidly progressing to cutaneous ulcers and necrotic eschar with a jagged margin.
Chronic granulomatous type

It is most commonly reported from China and India. It is seen in immunocompetent individuals at site of trauma. It presents as gradually progressive cutaneous plaques with variable amount of ulceration and scarring.
Secondary cutaneous mucormycosis-

It is the most common type seen in hospital and emergency settings and affects terminally ill and severely immunocompromised patients. Clinical presentation is similar to acute necrotizing mucormycosis.
Contiguous Mucormycosis

It occurs due to contiguous spread from the underlying structures like rhino‑cerebral mucormycosis which presents with oral ulcers, mucosal eschars, periorbital edema, periorbital
cellulitis, ophthalmoplegia, loss of vision and neurological deficits.
The majority of cases of CAM reported have been of rhino‑orbito‑cerebral mucormycosis where nose/sinus involvement occurs early and eye and intracranial infection occur in the advanced disease.

Diagnosis and Treatment

Molecular diagnosis is not recommended as its sensitivity and specificity are low. For cutaneous and subcutaneous mucormycosis, clinical presentation with direct microscopic examination using potassium hydroxide mount with or without calcofluor stain or histopathological examination is preferred.
Surgical removal of all infected tissue is essential for the successful management of mucormycosis. Liposomal amphotericin is the recommended first line of therapy. Posaconazole and isavuconazole may be used as an alternative. In resource‑poor settings, amphotericin B deoxycholate can also be used as first‑line therapy.
Increasingly older population, extended survival of immunocompromised hosts, and indiscriminate use of antimicrobials has led to an upsurge of systemic fungal infections. On top of that CAM has added to the burden of fungal infections. Thus dermatologists should be well aware of clinical presentations and treatment aspects to be prepared to tackle increasing number of these cases.

Source-

Vinay K, Rudramurthy SM, Dogra S. Emergence of mucormycosis during COVID‑19 pandemic and dermatological manifestations. Indian Dermatol Online J 2021;12:493-6.
Prakash H, Chakrabarti A. Global epidemiology of mucormycosis. J Fungi 2019;5:26.
Skiada A, Petrikkos G. Cutaneous zygomycosis. Clin Microbiol Infect 2009;15:41‑5.
Rudramurthy SM, Hoenigl M, Meis JF, Cornely OA, Muthu V, Gangneux JP, et al. ECMM/ISHAM recommendations for clinical management of COVID‑19 associated mucormycosis in low‑and middle‑income countries Mycoses. 2021. doi: 10.1111/myc. 13335. Epub ahead of print.
Patel A, Agarwal R, Rudramurthy SM, Shevkani M, Xess I, Sharma R, et al. Multicenter epidemiologic study of coronavirus disease‑associated mucormycosis, India. Emerg Infect Dis 2021;27. doi: 10.3201/eid2709.210934.
Source : Indian Dermatology Online Journal