Intramatricial injection of anti-IL-17A Ab efficacious in nail psoriasis : CED study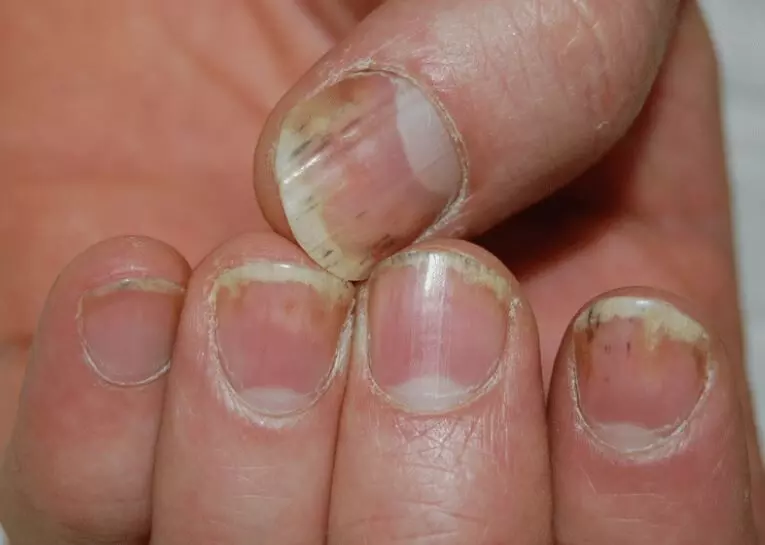 Intramatricial injection of anti-IL-17A Ab efficacious in nail psoriasis : CED study1

Nail involvement is a common feature of psoriasis commonly overlooked by physicians. It affects approximately 10-78% of psoriasis patients with 5-10% of patients having isolated nail psoriasis.2 Its significant association with arthritis, its resistance to treatment and psychological stress it causes in patients makes it an important feature of psoriasis which needs attention and treatment. IL-17 monoclonal antibodies have been one of the successful biologicals in the treatment of psoriasis. Recently a study describing efficacy of intramatricial injection of anti-IL-17A Ab in nail psoriasis was published in the Clinical and Experimental Dermatology journal.
6 patients with psoriasis vulgaris and NP were recruited- 3 males and 3 females (age: 33.2± 11.1 years, skin psoriasis duration: 8.3± 4.1 years, NP duration: 3.2±1.5 years, PASI: 2.6±0.6). The number of involved fingernails was 9.2±1.3. All the patients received topical corticosteroids and/or vitamin D3 analogues without any systemic treatment in the past 3 months.
Each patient received local anaesthesia with 5% lidocaine and 1% tetracaine under occlusion for an hour in proximal nail fold. 3 severe nails of left hand were treated with intramatricial injections of secukinumab in different concentrations, 7.5mg/ml, 15mg/ml and 30mg/ml respectively formed by dilution with sterile water and preserved at 4℃. The needle was inserted from the two sides of the proximal nail fold in a 'V' pattern to inject 0.05 ml each side every time. Patients received 5-6 times treatments with a 2-week interval.

All enrolled nails were assessed with Nail Psoriasis Severity Index (NAPSI) score from baseline to week 12 fortnightly. Patients were followed up at week 24 after last treatment. The untreated symmetrical finger of right hand was considered as control.

At week 24, the mean improvement rate of NAPSI was 73.2% and 18.3% respectively (P<0.01) between the treated fingernails (18 fingernails) and the control. The mean improvement rate of NAPSI was 76.1%, 66.1% and 75.7% for secukinumab concentration of 7.5 mg/ml, 15 mg/ml and 30mg/ml respectively without any statistically significant difference in efficacy among the three concentrations.

The improvements seen in nail bed lesions (onycholysis, subungual hyperkeratosis and splinter hemorrhages) were superior to that in nail matrix lesions (nail plate crumbling). At week 24, the mean improvement rate of NAPSI of all the treated fingernails was 88.7% and 63.1% for nail bed and nail matrix respectively (P<0.05). The most common adverse event was bearable injection pain, and no other side effects were detected

To conclude intramatricial secukinumab injection is safe and effective in the treatment of NP, and the clinical efficacy in nail bed is superior to nail matrix.

Source-
He F, Long F, Zhang Z, Xia R, Lu Y, Yin Z. Intramatricial injection of anti-IL-17A antibody for 6 nail psoriasis patients. Clin Exp Dermatol. 2021 Sep 12. doi: 10.1111/ced.14933.
Dogra A, Arora AK. Nail psoriasis: the journey so far. Indian J Dermatol. 2014 Jul;59(4):319-33. doi: 10.4103/0019-5154.135470.
Source : Clinical and Experimental Dermatology