Megaloblastic anemia is a risk factor for childhood herpes zoster: IJDVL study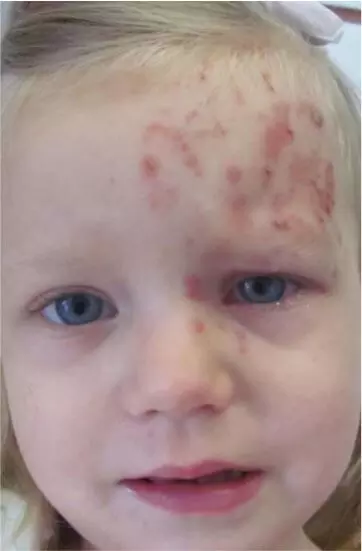 Megaloblastic anemia is a risk factor for childhood herpes zoster finds a new study published in Indian Journal of Dermatology, Venereology and Leprology.

Herpes Zoster is a predominantly dermatomal disease occurring due to reactivation of varicella zoster virus in the dorsal root ganglia. It commonly occurs in older age, diabetics and immunosuppressed people. Recent studies from Indian set up are showing a conspicuous rise in cases of childhood herpes zoster in immunocompetent children. Recently a study assessing the risk factors for such a presentation was published in the Indian Journal of Dermatology, Venereology and Leprology.

This was a case-control study of 30 patients and 30 age- and sex matched controls in Indian patients to study the clinical presentation, complications and the association of various risk factors with childhood herpes zoster. Cases included were of age ≤14 years, who were clinically diagnosed with herpes zoster and had multinucleated giant cells on Tzanck smear. Equal number of age- and sex-matched controls were selected from the healthy children who did not have a history of having the disease and accompanied other patients in the outpatients' department.

Patients were tested for HIV and complete blood count, chest X-ray and ultrasonography of abdomen were done to rule out any underlying malignancy. Anemia was diagnosed on the basis of both peripheral blood smear and mean corpuscular volume according to WHO guidelines.2

Results

21 out of 30 cases had megaloblastic anemia which was significantly associated with occurrence of childhood herpes zoster (odds ratio: 21; 95% confidence interval: 3.9–112.7).
Varicella during early life, history of maternal varicella during pregnancy and history of contact with chickenpox patients have been considered as important risk factors in many previous studies but these did not show a statistically significant association in the present study.1
A greater number of patients in the study group had immunosuppression with respect to the control group but the difference was statistically insignificant.
The study found a strong significant association between megaloblastic anemia and pediatric herpes zoster. The most common cause of megaloblastic anemia is deficiency of vitamin B12 or folic acid which may cause immature immune response leading to low levels of natural killer cells, lymphocytes and cytokines along with virus-specific immunoglobulins which may be the cause of inability to maintain varicella zoster virus latency, leading to appearance of herpes zoster at an early age.

In conclusion this is the 1st study to report a possibility of association of anemia with pediatric herpes zoster. Further prospective population-based studies are required to confirm this association.

Source-

Sahu P, Dayal S. Association of various risk factors with childhood herpes zoster: A case–control study in Indian patients. Indian J Dermatol Venereol Leprol2021;87:725-8.
WHO/UNU/UNICEF. Iron Deficiency Anaemia: Assessment, Prevention and Control, a Guide for Programme Managers. Geneva, Switzerland: World Health Organization; 2001. Available from: https:// www.who.int›ida_assessment_prevention_control.
Source : Indian Journal of Dermatology, Venereology and Leprology