Probiotics effective adjuvant for treating Acne finds review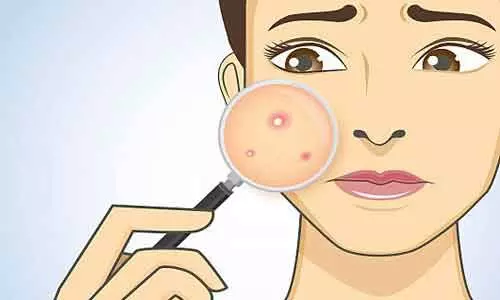 Acne is known as a chronic inflammatory skin disease with severe adverse effects on the quality of life in the patients. The increasing resistance to antibiotics has decreased its effectiveness in treating acne. As viable microbial dietary supplements, probiotics provide health benefits through fighting pathogens and maintaining the homeostasis of the gut and skin microbiome.
Researchers reviewed the potential of probiotics as beneficial microorganisms for treating acne vulgaris and found that probiotics may be an effective alternative for treating Acne. Their findings of the recent analysis have been published in Dermatologic Therapy.
The researchers conducted a review of the literature through a bibliographic search of popular databases, including Science Direct, PubMed, Scielo, and Medline, using keywords such as probiotics, prebiotics, synbiotics, microbiome, and acne vulgaris to determine potential applications of these beneficial microbiomes in treating acne vulgaris.
Acne lesions are associated with increases in the proportion of Propionibacterium acnes as a skin commensal bacterium. The environmental studies showed inhibitory effects of probiotics on P. acnes, mediating by antibacterial proteins and bacteriocin‐like inhibitory substances, and their immunomodulatory effects onkeratinocytes and epithelial cells. Probiotics were also found to inhibit cytokine IL‐8 in epithelial cells and keratinocytes, suggesting immunomodulatory activities. Moreover, glycerol fermentation by Staphylococcus epidermidis was found to be a natural skin defense against acne and an overgrowth inhibitor of P. acnes.
After examining the results of all relevant published studies on the use of probiotics in creams or oral medications for treating acne the researchers concluded that oral administration of probiotics was found to constitute an adjuvant therapy to conventional modalities for treating mild‐to‐moderate acne vulgaris. The results suggest that probiotics may help augment the skin's natural defenses against acne.
"Further research is recommended that looks into the long-term effects of probiotics on acne lesions given the short-term type of studies cited," said senior author Masoumeh Mohamadi, MD, of Rasoul Akram Hospital, in Iran.
For further reference log on to :

Source : Dermatologic Therapy