Acyclovir: A Review of its Use in the Management of Shingles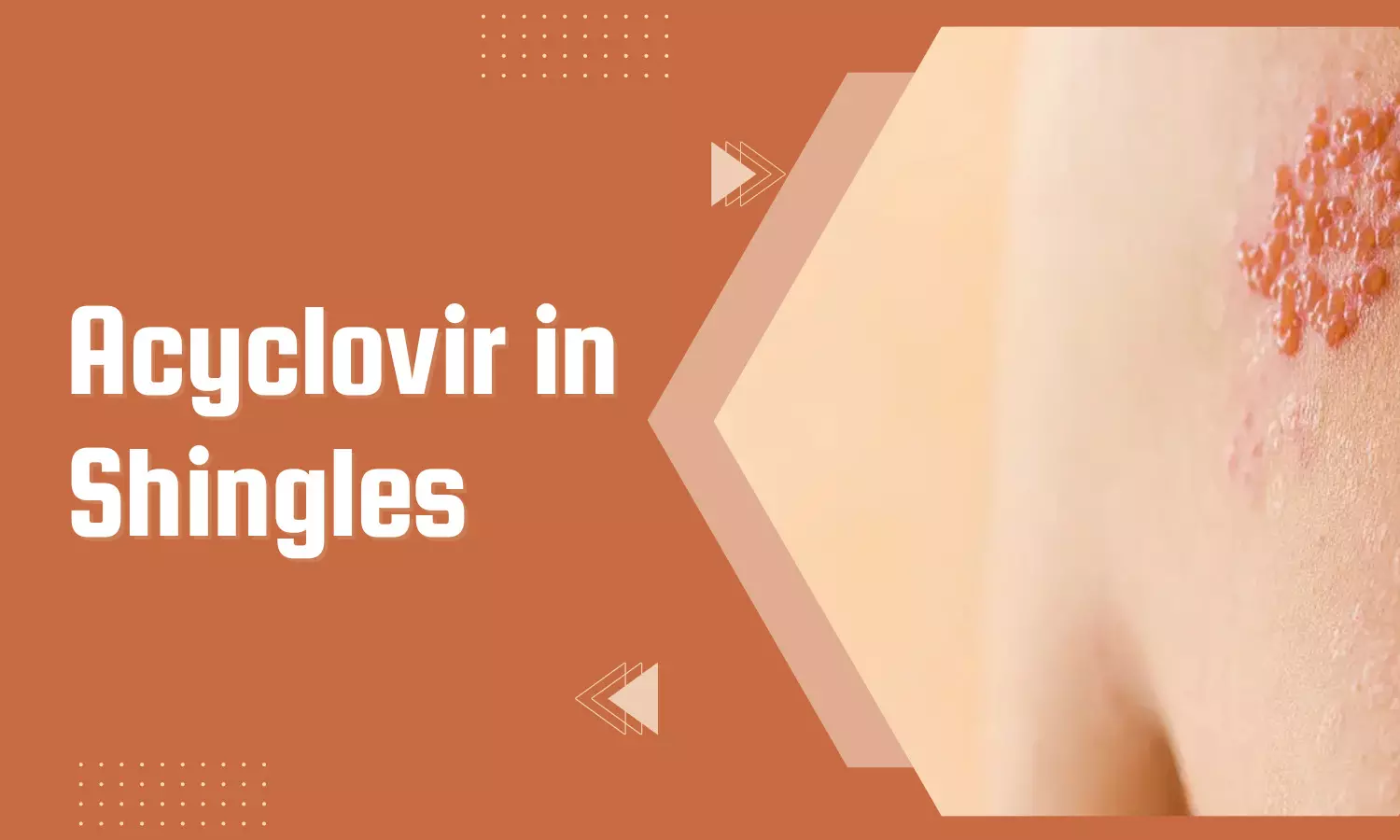 Herpes zoster (HZ), commonly known as Shingles, is caused by the reactivation of the varicella-zoster virus (VZV). (1) Often distinguished as a unilateral and dermatome-specific vesicular rash, Herpes zoster infection is associated with frequent outpatient visits and pain prescriptions, making optimum Shingles management very challenging for physicians. Common prodromal symptoms such as pain, fever, malaise, headache, itch, and paresthesias usually precede the rash (a few hours to several days) in most patients. (2)
A look into the underlying pathophysiology-
Varicella zoster virus causes varicella (chicken pox), a highly infectious primary disease mainly affecting children. It usually spreads through the air from person to person or by directly touching the lesion. On the resolution of primary infection, the virus is dormant and inactive in the sensory dorsal root ganglion cells. Through the varicella-zoster virus-specific memory, T cells are activated on exposure to varicella, and their immunity deteriorates with time. Eventually, a drop below a supposed "zoster threshold" is associated with an increased chance of herpes zoster infection. (2) VZV reactivation, if not controlled, leads to viral replication, which causes ganglionitis, widespread infection, and the destruction of neurons and supporting cells. The prodromal discomfort, which typically lasts 2-3 days, is likely the result of this severe infection and its associated inflammatory response. (3)
Analyzing the Severity: High-Risk Population and the Sequels: Adults over 50 are at a higher risk of acquiring herpes zoster, most likely due to immunosenescence (age-related immunity changes). Though a peak incidence of herpes zoster is documented in the 60−69 age group (4), Evidence indicates that it can afflict anyone of any age, especially those with impaired cell-mediated immunity due to chronic diseased states or immunosuppressive medicines. (2)
A higher incidence of herpes zoster has been noted across studies among bone marrow or stem cell transplant recipients, HIV, systemic lupus erythematosus (SLE), rheumatoid arthritis (RA), cancers, inflammatory bowel disease (IBD), multiple sclerosis, psoriasis, and even COPD, and hypertension (HTN). (2) Left untreated, Herpes zoster has been linked to complications involving the ophthalmic, splanchnic, cerebral, and motor nerves. However, the most common consequence is postherpetic neuralgia, often accompanied by chronic pain affecting the quality of life and substantially causing physical-emotional distress. (1,3) Clinical situations warranting hospitalization in herpes zoster include postherpetic neuralgia, bacterial infections, ophthalmic involvement, neurological involvement, and disseminated herpes zoster.
Herpes Zoster(HZ) Management: Challenges and Goals
Despite the development of vaccines and advances on the therapeutic front for managing herpes zoster infection and postherpetic neuralgia(PHN), statistics reveal a striking prevalence of 22% of patients with herpes zoster continuing to suffer from postherpetic neuralgia. (2)
The primary goals of HZ therapy include lowering pain in immunocompetent individuals and the termination of viral replication in immunocompromised patients. With a plethora of studies affirming that using antiviral drugs can reduce the amount of time needed for the vesicles, ulcers, and crusts to go away compared to using a placebo, a detailed review on the role of antivirals in HZ is the need for the hour. (5)
Pharmacological management - Decoding the Role of antiviral drugs in Shingles-
The introduction of safe and effective antiviral medications with robust action against VZV, optimal pharmacokinetic profile, and good safety profiles have greatly improved the outcomes of varicella and herpes zoster, particularly in immunocompromised individuals (6). The mainstay of herpes zoster therapy is aimed to lessen discomfort, hasten recovery, and reduce the chances of complications. Acyclovir is a US Food and Drug Administration-approved antiviral for treating HZ. (3)
Mechanism of action: How does Acyclovir act?
Acyclovir is a specific VZV and HSV replication inhibitor and is an acyclic analog of guanosine (6). Thymidine kinase (TK), encoded by the virus, converts the medication into acyclovir monophosphate, a process that is not significantly triggered in uninfected cells. High amounts of acyclovir triphosphate are produced in VZV-infected cells, catalyzed by cellular enzymes. By challenging deoxyguanosine triphosphate as a substrate for viral DNA polymerase, acyclovir triphosphate prevents the production of viral DNA, leading to viral chain termination. (6) By preventing viral replication, neural damage is attenuated, which is expected to play a significant role in developing PHN. (3)
The Importance of Starting Antiviral Treatment Early
Antivirals, when initiated within 72 hours of rash onset, help to minimize pain, hastens to heal, and reduce ocular complications, while preventing the development of post-herpetic neuralgia. (2)
Short-term RCTs on Acyclovir (800 mg five times daily for 7-10 days), lowered the percentage of eye complications in ophthalmic HZ patients from 50% to 30%. Also, the treatment groups experienced significantly reduced pain and discomfort. Regardless of age or the severity of symptoms, it is advised for all patients with ocular HZ to be prescribed oral antiviral medications at the first indications of infection. (5)
With research revealing that Herpes zoster ophthalmicus is a frequent cause of permanent visual impairment, the focus lies on treating it at the earliest sign, with an antiviral in the first visit itself, before referring the patient to a higher ophthalmology facility. (7)
Given the minimal risks of treatment with acyclovir, antiviral therapy is also recommended for patients presenting >72 hours after rash onset with continued new vesicle formation or when there are cutaneous, motor, neurologic, or ocular complications. (3)
The above findings offer strong justification for using Acyclovir in HZ patients, not only to speed up the resolution of the acute phase but also to reduce the risk of the onset of chronic complications.
Efficacy of Acyclovir in managing Shingles-Study testimonials and recommendations-
❖ Treatment of Herpes Zoster in Immunocompetent patients-
Systemic antiviral therapy is strongly recommended as first-line treatment for all immunocompetent patients with HZ who fulfill any of the following criteria- (1) 50 years of age; (2) have moderate or severe pain; (3) have a moderate or severe rash; or (4) have non-truncal involvement. (3)
Oral acyclovir (800 mg five times daily for seven days) accelerated cutaneous healing and reduced the severity of acute neuritis in immunocompetent adults with herpes zoster. Overall, acyclovir therapy reduced the duration of new vesicle formation by about 1.5 days and the time to 50% lesion healing by about 2.5 days. Acyclovir was also significantly superior to placebo for reducing the duration of "zoster-associated pain." (6)
❖ Treatment of Herpes Zoster in Immunocompromised Individuals-
In immunocompromised people, Acyclovir has a documented prophylactic effect on the prevention of herpes zoster. Research in Africa (8) on CD4+ T cell-positive HIV patients noted that 400 mg of Acyclovir given prophylactic (2 times a day) decreased the risk of developing herpes zoster by 62%.
Myron J. Levin et al. (9) conducted a study to evaluate the effect of topical Acyclovir directly on cutaneous lesions (applied four times daily for ten days, beginning within 72 hours after the onset of skin lesions) in immunocompromised patients. It was noted that the time to complete healing, or 50% healing, was significantly shortened to placebo. The mean time to pustulation was decreased from 12.4 to 6.7 days, and the mean time to crusting fell from 16.0 to 11.4 days (p = 0.038 and 0.086, respectively) with topical treatment.
❖ Treatment of Herpes Zoster in Pregnancy and Pediatric Population-
Acyclovir can be considered for use in early pregnancy, with no increased risk of malformation or preterm births noted. In children affected with HZ, oral suspension of Acyclovir can be used. Recommendations advise that preadolescent children should receive Acyclovir treatment if they have ocular involvement, an immunocompromised state, or cancers. (2)
Acyclovir: Dosage, Safety, and Tolerability

❖ Dosages-Acyclovir is available in topical, oral, and intravenous formulations. Oral acyclovir preparations include a 200 mg capsule, 400 and 800 mg tablets, and a liquid suspension (200 mg per 5 ml). Adults with herpes zoster can be treated with oral acyclovir at a dose of 800 mg five times daily. Dosage reduction is required in patients with renal insufficiency. (6)
❖ Safety and tolerability- Acyclovir is generally well-tolerated and safe. It is rare for oral acyclovir medication to cause neurotoxicity or nephrotoxicity. Studies on individuals using acyclovir for a prolonged period to reduce genital herpes have reported no cumulative harm with its use (6)
Key pointers-
✔ Herpes zoster can affect people of any age; however, it is more common in older and immunocompromised people.
✔ HZ is associated with an increased need for hospitalization, depending on the severity of herpes zoster complications.
✔ Herpes zoster and associated consequences have been proven to decrease with antiviral treatment within 72 hours of the appearance of the rash.
✔ Acyclovir works effectively for immunocompetent people, immunocompromised, pregnant, or children while exhibiting a relatively safe profile.
Take Home Message:

Over the years, significant advancements have been made toward preventing and treating HZ and PHN. Acyclovir, backed by years of research, is one of the most widely used antiviral agents in managing Shingles effectively. Rational use of this drug early in the course of the disease may help hasten the acute phase recovery and reduce the risk of chronic complications.
References
1. Gnann JW Jr., Whitley RJ. Clinical practice. Herpes zoster. N Engl J Med 2002;347:340‐6.
2. Koshy E, Mengting L, Kumar H, Jianbo W. Epidemiology, treatment and prevention of herpes zoster: A comprehensive review. Indian J Dermatol Venereol Leprol 2018;84:251-62.
3. Dworkin, R. H., Johnson, R. W., Breuer, J., Gnann, J. W., Levin, M. J., Backonja, M., ... & Whitley, R. J. (2007). Recommendations for the management of herpes zoster. Clinical infectious diseases, 44(Supplement_1), S1-S26.
4. Kim YJ, Lee CN, Lim CY, Jeon WS, Park YM. Population‐based study of the epidemiology of herpes zoster in korea. J Korean Med Sci 2014;29:1706‐10.
5. Opstelten, W., Eekhof, J., Neven, A. K., & Verheij, T. (2008). Treatment of herpes zoster. Canadian Family Physician, 54(3), 373-377.
6. Gnann Jr. JW. Antiviral therapy of varicella-zoster virus infections. In: Arvin A, Campadelli-Fiume G, Mocarski E, et al., editors. Human Herpesviruses: Biology, Therapy, and Immunoprophylaxis. Cambridge: Cambridge University Press; 2007. Chapter 65. Available from: https://www.ncbi.nlm.nih.gov/books/NBK47401/
7. Schaftenaar E, Meenken C, Baarsma GS, McIntyre JA, Verjans GM, Peters RP, et al. Early‐ and late‐stage ocular complications of herpes zoster ophthalmicus in rural South Africa. Trop Med Int Health 2016;21:334‐9.
8. Barnabas RV, Baeten JM, Lingappa JR, Thomas KK, Hughes JP, Mugo NR, et al. Acyclovir prophylaxis reduces the incidence of herpes zoster among HIV‐infected individuals: Results of a randomized clinical trial. J Infect Dis 2016;213:551‐5.
9. Levin, M. J., Zaia, J. A., Hershey, B. J., Davis, L. G., Robinson, G. V., & Segreti, A. C. (1985). Topical acyclovir treatment of herpes zoster in immunocompromised patients. Journal of the American Academy of Dermatology, 13(4), 590-596. Dr Kamal Kant Kohli-MBBS, DTCD- a chest specialist with more than 30 years of practice and a flair for writing clinical articles, Dr Kamal Kant Kohli joined Medical Dialogues as a Chief Editor of Medical News. Besides writing articles, as an editor, he proofreads and verifies all the medical content published on Medical Dialogues including those coming from journals, studies,medical conferences,guidelines etc. Before Joining Medical Dialogues, he has served at important positions in the medical industry in India including as the Hony. Secretary of the Delhi Medical Association as well as the chairman of Anti-Quackery Committee in Delhi and worked with other Medical Councils in India. Email: editorial@medicaldialogues.in. Contact no. 011-43720751