Detailed Project Report Prepared for AIIMS Jharkhand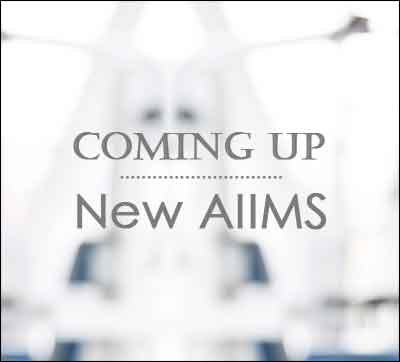 Ranchi: The union government has prepared the detailed project report (DPR) for AIIMS to be set up at Devipur in Jharkhand's Deoghar district, which is expected to start functioning in about two-and-a-half years.
Jharkhand Health, Medical Education and Family Welfare Minister Ramchandra Chandravanshi told a press conference here today that the state government has received report that the central government has not only prepared the DPR for AIIMS at Devipur, but has also prepared the cabinet note and may get the cabinet sanction any time from now.
Once the cabinet sanction is granted for the AIIMS in Deoghar it would take about two-and-a-half years for the institute to be functional, additional chief secretary of the department, Sudhir Tripathi said.
Chandravanshi said that to deal with the shortage of doctors in Jharkhand, the state government has initiated the process to establish three new medical colleges at Palamau, Hazaribagh and Dumka, where the building work has already begun and is expected to be completed by January 2019.
He said that efforts were on to include all the people of the state under the chief minister's health insurance scheme. Presently only the BPL people are benefitting from the scheme but it was meant for APL families as well. They can join the scheme by paying the premium which will be as low as around Rs 500.
For the health insurance scheme the government has made provisions for Rs 200 crore in 2017-18.
The minister announced that the state government is actively considering building up a medico city in Itki area here.
The medico city will incur an expense of Rs 918.20 crore and it will be built in an area of 66.18 acres.
Tripathi said that the ambitious 108 ambulance services will also start functioning from August in the entire state and by December a total of 329 ambulances will be ready to be used in the state. These ambulances would include forty advanced ambulances as well, having specialized facilities in them.
He said that the 500-beded sadar hospital here will start functioning by July end. While 200 beds will be inaugurated by July end, the rest 300 will be incorporated in the next two years.
Another 500-bed hospital is also under construction at Kharsawan, which will be completed in December 2017.
To fulfill the requirement of doctors, the department has notified the recruitment process for 817 specialized doctors through Jharkhand Public Service Commission while 71 doctors have already been appointed in the Rajendra Institute of Medical Sciences here, Tripathi said.
Under the central government scheme 19 lakh medicated mosquito-nets are being distributed in the state, he added.