Deworming: Govt aims to cover over 32 crore kids, says Nadda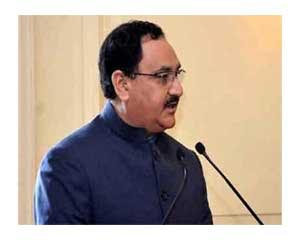 New Delhi: Union Health Minister J P Nadda said the government aims to reach out to more than 32 crore children in the country in the sixth round of the national deworming programme held.
Launching a programme on the occasion of National Deworming Day at a school in Gurgaon, he said the government is committed to ensuring that high-quality healthcare inaccessible to every child and up to the last mile.
Observed on February 10 and August 10 each year, National Deworming Day (NDD) is a single fixed-day approach to treat intestinal worm infections in all children aged 1- 19 years.
Nadda said his ministry had launched the NDD first in 2015 and was implemented in all state-run and government-aided schools besides Anganwadi centres across 11 states and Union Territories.
"Since then, the programme has been scaled up throughout the country and the government is aiming to reach more than 32.2 crore children in this round," Nadda said releasing the Deworming Factsheet at the event.
Last year, 25.6 crore children in the February round and 22.8 crore children in the August round of National Deworming Day were successfully reached and treated of intestinal worm infections.
"Programs like National Deworming Day, which is for all children, are ensuring prevention of cognitive disability as well decreasing school drop-out rate by improving the overall health of children. All these initiatives move us closer to overall wholesome development of the country," the Union health minister said.
Urging all the stakeholders to participate in this initiative, Nadda said the aim of a "worm-free India" can be true only if we all join hands to make this programme a success.
He also asked public representatives to create awareness and discuss health issues, which is an important factor in the country development.
"The National Deworming Day aims to create mass awareness about the most effective and low-cost treatment of Soil-Transmitted Helminth (STH) infections -- one of the most common infections -- by administering Albendazole tablets," Nadda said.
"The tablet has no side effects and in case a dose is missed, the ministry carries out mop-up sessions, to ensure no child is left out.
"Along with Albendazole administration, behaviour change practices in terms of cleanliness, hygiene, use of toilets, wearing shoes/chappals, washing hands are also important to reduce incidents of re-infection," the Union health minister said.
According to an official statement, deworming have very few side effects and some children, especially those with high worm infections, might experience nausea, mild abdominal pain, vomiting, diarrhoea, and fatigue.
In line with the health ministry guidance, comprehensive protocols have been put in place.
The Ministry of Health and Family Welfare envisions an open-defecation-free India which holds the capacity to reduce the overall worm burden in a community.