Aerobic exercise best for blood sugar control in type 1 diabetes patients: Study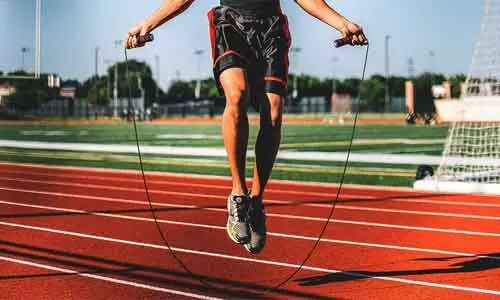 Ireland: Aerobic exercise may be the best approach of all exercise modalities for reducing delayed hypoglycemia risk in people with type 1 diabetes (T1D), finds a recent review in the journal Nutrition, Metabolism & Cardiovascular Diseases.

According to the authors, the result were quite unexpected as the studies having a shorter follow-up of up to 3 to 6 hours identified aerobic exercise as the worst approach in terms of blood sugar control in the immediate post-exercise. However, in the long term (24 hours post-exercise) aerobic exercise was found to be the best approach.

Exercise plays a crucial role in the prevention of complications and comorbidities in T1D. Despite this, T1D patients are often insufficiently physically active, mainly due to the fear of hypoglycaemia. Research using continuous glucose monitoring (CGM) devices has shown that exercise affects glycaemic control in T1DM for over 24 h. Giacomo Valli, Department of Biomedical Sciences, University of Padova, Italy, and colleagues, therefore, aimed to investigate the delayed effects of different exercise modalities on glycaemic control in adults with T1DM.
For the purpose, the researchers conducted the literature search of experimental studies on PubMed, SPORTDiscus and EMBASE from January 2000 to September 2019. The meta-analysis and systematic review included a total of 12 studies using CGM devices.
Key findings of the study include:
Compared to endurance, intermittent exercise increased the time spent in hypoglycaemia and reduced the mean interstitial glucose concentration.
No differences emerged in the time spent in hyperglycaemia or in the proportion of exercisers experiencing hypoglycaemic events between conditions.
The systematic review also found a reduced risk of hypoglycaemia if exercise is performed in the morning rather than in the afternoon, and with a 50% rapid-acting insulin reduction.
It was not possible to determine the benefits of resistance exercise.
"For the first time, we systematically investigated the delayed effect of exercise in adults with T1DM, highlighted undetected effects, shortcomings in the existing literature, and provided suggestions to design future comparable studies," concluded the authors.
The study titled, "Delayed effect of different exercise modalities on glycaemic control in type 1 diabetes mellitus: A systematic review and meta-analysis," is published in the journal Nutrition, Metabolism & Cardiovascular Diseases.
DOI: https://www.nmcd-journal.com/article/S0939-4753(20)30515-9/fulltext
Source : Nutrition, Metabolism & Cardiovascular Diseases