Exercise and Liraglutide Combo Effective option for weight loss: NEJM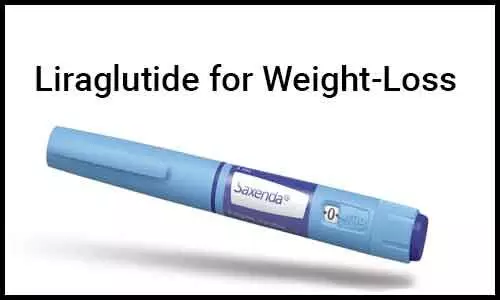 Previous studies have repeatedly demonstrated the ability of GLP 1 analogs to induce weight loss. A recent study suggests that the combination of liraglutide and exercise led to weight loss maintenance over one year compared with either exercise or the medication alone. The study findings were published in the New England Journal of Medicine on May 06, 2021.

Weight regain after weight loss is a major problem in the treatment of persons with obesity. The success rate of weight loss maintenance is limited. Therefore, Dr Julie R. Lundgren and her team conducted a study to investigate the maintenance of weight loss and immunometabolic health outcomes after diet-induced weight loss followed by one-year treatment with a glucagon-like peptide-1 receptor agonist (liraglutide), physical exercise, or the combination of both treatments as compared with placebo in individuals with obesity.
It was a randomized, head-to-head, placebo-controlled, parallel-group trial. The researchers enrolled adults with obesity (body-mass index 32 to 43) who did not have diabetes. After an 8-week low-calorie diet, 195 participants were randomly assigned for 1 year to one of four strategies:
Exercise group: Moderate-to-vigorous–intensity exercise program plus placebo;
Liraglutide group: Treatment with liraglutide (3.0 mg per day) plus usual activity;
Combination group: Exercise program plus liraglutide therapy; or
Placebo group: Placebo plus usual activity.
The primary endpoint of the study was weight loss at one year and the secondary endpoint assessed was changes in body mass at one year. Safety of liraglutide, as well as other prespecified metabolic health-related endpoints, were also assessed.
Key findings of the study were:
One year after randomization, the researchers noted that all the active-treatment strategies led to greater weight loss than placebo (difference, −4.1, −6.8, and −9.5 kg in the exercise, liraglutide, and combination groups, respectively).
They noted that compared with exercise (difference, −5.4 kg), but not liraglutide (−2.7 kg), the combination strategy led to significantly greater weight loss.
They also noted that the combination strategy decreased body fat percentage by 3.9 percentage points, which was approximately twice the decrease in the exercise group (−1.7 percentage points) and the liraglutide group (−1.9 percentage points).
They found that the combination strategy has additional health benefits such as improvements in the glycated hemoglobin level, insulin sensitivity, and cardiorespiratory fitness.
They further noted that the incidence of increased heart rate and cholelithiasis were observed more often in the liraglutide group than in the combination group.
The authors concluded, "A strategy combining exercise and liraglutide therapy improved healthy weight loss maintenance more than either treatment alone."
For further information:
Article Source :
The New England Journal of Medicine