SGLT2 inhibitors may reduce risk of kidney stone formation in diabetics: Study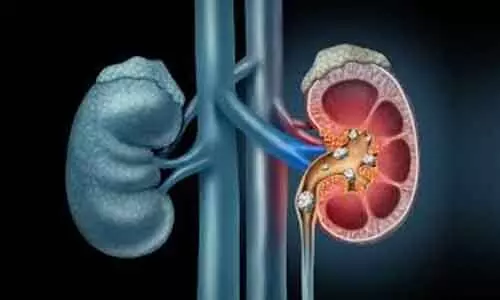 Denmark: Initiation of treatment with sodium-glucose cotransporter 2 inhibitors (SGLT2Is) may prevent incident and recurrent nephrolithiasis (kidney stones) in diabetes patients, according to a recent study in the journal Diabetologia.
The goals of treatment for type 2 diabetes are to prevent or delay complications and maintain quality of life . This requires control of blood sugar and cardiovascular risk factor management, regular follow-up and, importantly, a patient-centred approach to enhance patient engagement in self-care activities.
Sodium–glucose cotransporter 2 inhibitors (SGLT2Is) are increasingly used in the treatment of type 2 diabetes mellitus. In addition to their effect on blood sugar control, SGLT2Is have been shown to reduce body weight, BP, risk of major cardiovascular events and hospitalisation for heart failure. SGLT2Is increase urinary glucose excretion through a reduced renal reabsorption of glucose leading to osmotic diuresis and increased urinary flow.
SGLT2 inhibitors may reduce the risk of stone formation due to its action of increased urinary flow. Also, an increase in urinary volume decreases the concentration of lithogenic substances in urine and risk of stone precipitation, and a high fluid intake has been shown to prevent recurrent stone disease in randomised trials.
Kasper B. Kristensen, University of Southern Denmark, Odense, Denmark, and colleagues aimed to investigate if initiation of SGLT2I was associated with reduced risk of nephrolithiasis.
For this purpose, the researchers conducted an active-comparator new-user cohort study using the Danish health registries between 1 November 2012 to 31 December 2018. Patients aged ≥40 years initiating SGLT2Is or glucagon-like peptide-1 receptor agonists (GLP1 RAs) were followed from treatment initiation until an inpatient or outpatient diagnosis of nephrolithiasis, death, emigration, or end of the study.
New users of SGLT2Is were matched 1:1 on propensity scores to new users of GLP1 RAs. In supplementary analyses, the risk of recurrent nephrolithiasis was assessed in individuals with a history of nephrolithiasis before treatment initiation.
A total of 24,290 and 19,576 eligible users of SGLT2Is and GLP1 RAs, respectively, were identified. 12,325 patient pairs remained after matching (median age 61 years) and they were followed for 2 years.
Key findings of the study include:
The nephrolithiasis rate was 2.0 per 1000 person-years in SGLT2I initiators compared with 4.0 per 1000 person-years in GLP1 RA initiators, with a rate difference of −1.9 per 1000 person-years and an HR of 0.51.
For recurrent nephrolithiasis (n = 731 patient pairs), the rate difference was −17 per 1000 person-years and the HR was 0.68.
"Our findings show that initiation of treatment with SGLT2 inhibitors was associated with a clinically significant reduced risk of incident and recurrent nephrolithiasis," concluded the authors.

Reference:
The study titled, "Sodium–glucose cotransporter 2 inhibitors and risk of nephrolithiasis," is published in the journal Diabetologia.
DOI: https://link.springer.com/article/10.1007/s00125-021-05424-4
Source : Diabetologia