Vitamin D deficiency linked to painful diabetic neuropathy, finds study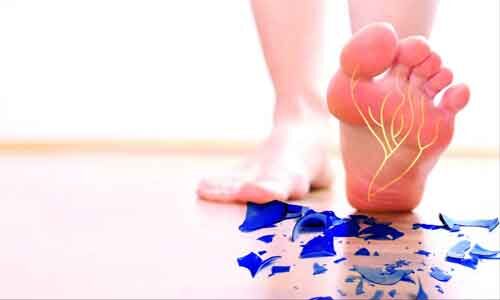 A recent study has reported lack of sufficient Vitamin D to be associated with increased risk for painful diabetic neuropathy. Researchers have published their findings in Diabetes/Metabolism Research and Reviews.
The aetiology of painful diabetic neuropathy is unclear. The researchers evaluated vitamin D levels in diabetic patients with and without painful neuropathy. Previous studies have shown a significant association between vitamin D deficiency and the development of diabetic peripheral neuropathy (DPNDPN), particularly in Asian patients. Possible association between vitamin D deficiency and painful diabetic neuropathy has also been reported.
The aim of the present study was to evaluate the levels of vitamin D in patients with painful as compared with painless diabetic neuropathy .
The researchers included a study sample of forty‐three patients with type 1 diabetes divided into two groups of painless neuropathy (DPN) (n = 20) and painful neuropathy (PDN) (n = 23).They were compared with a control group which consisted of non‐diabetic healthy control(C) subjects (age, sex and ethnicity matched).
The sample population went through a complete assessment of neurologic deficits, quantitative sensory testing (QST), electrophysiology, skin biopsy, corneal confocal microscopy (CCM) and measurement of serum 25(OH) D.Values below 20 ng/mL and 30 ng/mL was regarded as Vitamin D deficiency and insufficiency respectively.
Results revealed that serum 25(OH) D levels were significantly lower in PDN (24.0 ± 14.1 ng/mL) compared with DPN (34.6 ± 15.0 ng/mL, P = .01) and controls (34.1 ± 8.6 ng/mL, P = .03). There was a 10-fold increased risk for painful diabetic neuropathy (odds ratio [OR], 9.8; 95% CI, 2.2-76.4; P=.003) in Vitamin D deficient patients (<20 ng/mL). It was also noted that Vitamin D deficiency (<20 ng/mL) was associated with more than a 4-fold increased risk to PDN (OR, 4.4; 95 CI, 1.1-19.8; P=.03).
According to the authors, the major strength of this study was a fully matched and detailed phenotyping of the diabetic patients with and without painful neuropathy .Certain limitations like the small sample size, lack of quantification of sunlight exposure or daily activity and comparison with a non‐neuropathic diabetic cohort were also acknowledged.
The researchers further quoted that a well‐constructed clinical trial of vitamin D in painful diabetic neuropathy is required to assess the effectiveness of a potentially simple treatment with no obvious side effects.
Source Reference :https://doi.org/10.1002/dmrr.3361
Source : Diabetes/Metabolism Research and Reviews