UKPDS and DCCT Legacy Effects: Importance of Early Treatment of Hyperglycemia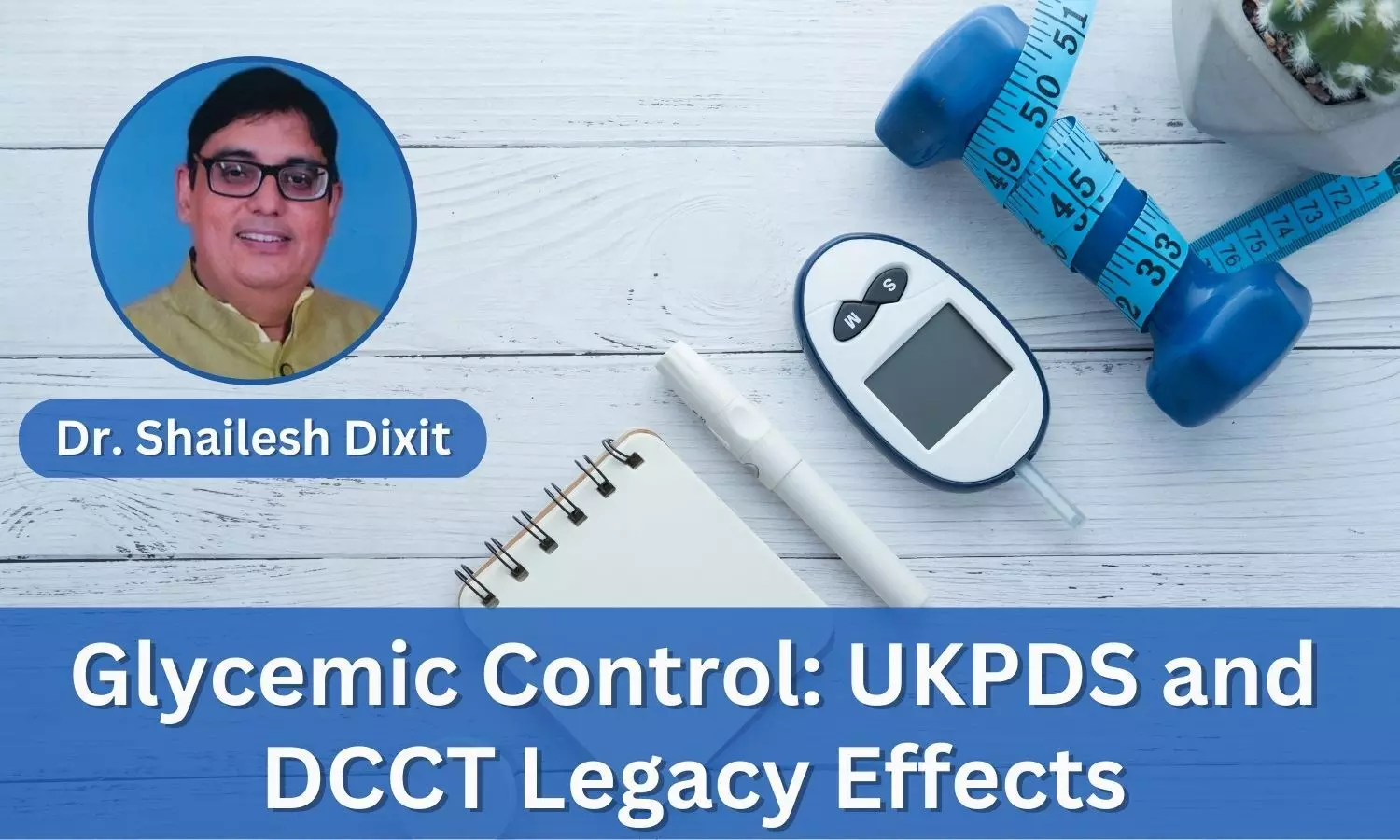 People with diabetes benefit from better target glycemic control in the early years following diagnosis and can prevent threatening vascular complications; a long-term follow-up of the Diabetes Control and Complications Trial (DCCT) and the UK Prospective Diabetes Study (UKPDS) cohorts has reported.

The follow-up of DCCT and UKPDS cohorts, which has been published in Diabetes Care, bring out a direct relationship between all hemoglobin A1c (HbA1c) levels and the risk of complications.
They concluded that a treatment goal of HbA1c less than 7.0 % is realistic and appropriate, and improved glycemic control at this level can reduce several complications associated with diabetes.
Additionally, they predicted that maintaining a 1.0% decrease in HbA1c from diagnosis might lower the risk of death by 19% as opposed to 2.7% when the same improvement was delayed for ten years.
DCCT and UKPDS Unveil Key Insights to Glycemic Control Management:
The DCCT and UKPDS provide further details on earlier accounts of the long-term implications of a brief glycemic control period.
They explored the contribution, effects, and preventive measures of complications associated with diabetes, integrating the necessity of keeping the HbA1c level below 7%.
The DCCT sought to evaluate the favourable benefits of intensive therapy on individuals with type 1 diabetes' risk of cardiovascular disease.
The trial enrolled young people with type 1 diabetes (mean age 26 years) for an average of 6 years. Over 6.5 years, the randomised treatment phase maintained an HbA1c difference of about 2.0%. The progression of new or existing retinopathy was the endpoint. Due to the ageing of the population, there were too few cardiovascular events to analyse.
In contrast, the UKPDS conducted a randomised controlled trial to examine the impact of intensive blood-glucose management with either sulphonylurea or insulin and conventional care on the risk of microvascular and macrovascular problems in patients with type 2 diabetes.
Within a year of type 2 diabetes diagnosis, the UKPDS enrolled an older population (mean age 56 years), randomising individuals with increased fasting plasma glucose after three months of lifestyle management. HbA1c levels in both arms gradually worsened over the course of ten years, although the between-treatment difference remained at about 1.0%. Composites of medical events, such as any diabetes-related event (including cardiovascular and microvascular outcomes), deaths from diabetes-related causes, and deaths from any cause, were the major end points utilised to evaluate treatment differences.
Targets for Glycemic Control: General Consensus Reached from landmark DCCT/EDIC &UKPDS

Despite their variations, the research' similar methods for long-term follow-up enable the building of a simple model of the natural history of outcomes associated with diabetes, which links glycemic control to late complications.
The UKPDS and the DCCT showed that near normoglycemia might significantly slow the onset and progression of microvascular complications.
The DCCT and the UKPDS noted clinical decreases in cardiovascular diseases linked to reducing blood glucose levels.
They predicted that maintaining a 1.0% decrease in HbA1c from diagnosis might lower the risk of death by 19% as opposed to 2.7% when the same improvement was delayed for ten years.
The DCCT/EDIC and UKPDS investigators concurred that limiting problems in later years begins in the first few years following a diabetes diagnosis.
This accentuates a crucial clinical point strongly. Good glycemic control must begin early and be maintained for a long time. Both type 1 and type 2 diabetes would benefit with such treatment goals.
Hyperglycemia can cause damage at the molecular level (glycated hemoglobin, other modified proteins, partial methylated nucleotides), tissue injuries (retinal vessels, partial glomerular, partial nerve fibers, partial arterial wall damage), organ dysfunction (reduced visual acuity, reduced eGFR, limited peripheral neuropathy, impaired cardiac performance), clinical events (vision loss, kidney failure, foot ulceration, stroke, myocardial infarct, heart failure), and late impairments (frailty, reduced mobility, progressive cognitive decline). Cumulative damage to multiple organs eventually leads to impaired quality of life and mortality.
Diabetes has reached epidemic proportions and is one of the leading causes of premature morbidity and mortality worldwide. Patients with diabetes have long suffered from the devastating complications that threaten their lives.
Evidence from the DCCT and UKPDS demonstrated the continuous link between prevailing glycemia and the likelihood of complications progressing, suggesting that any improvement in glycemic control is advantageous.
To take advantage of these advances, it is important to pursue appropriate glycemic control, prevent both hyper- and hypoglycemia, and establish an individualised approach for diabetes patients to reach their target HbA1c levels.
References:
1. Riddle MC, Gerstein HC, Home PD. Lingering Effects of Hyperglycemia in Recently Diagnosed Diabetes During Long-term Follow-up of the DCCT/EDIC and UKPDS Cohorts: More Evidence That Early Control Matters [published online ahead of print, 2021 Sep 21]. Diabetes Care. 2021;dci210030. doi:10.2337/dci21-0030
2. Nathan DM, Cleary PA, Backlund J-YC, et al.; Diabetes Control and Complications Trial/ Epidemiology of Diabetes Interventions and Complications (DCCT/EDIC) Study Research Group. Intensive diabetes treatment and cardiovascular disease in patients with type 1 diabetes. N Engl J Med 2005;353:2643–2653
3. UK Prospective Diabetes Study (UKPDS) Group. Intensive blood-gluco se control with sulphonylureas or insulin compared with conventional treatment and risk of complications in patients with type 2 diabetes (UKPDS 33). Lancet 1998;352:837–853