Understanding Monogenic Diabetes with Dr V Mohan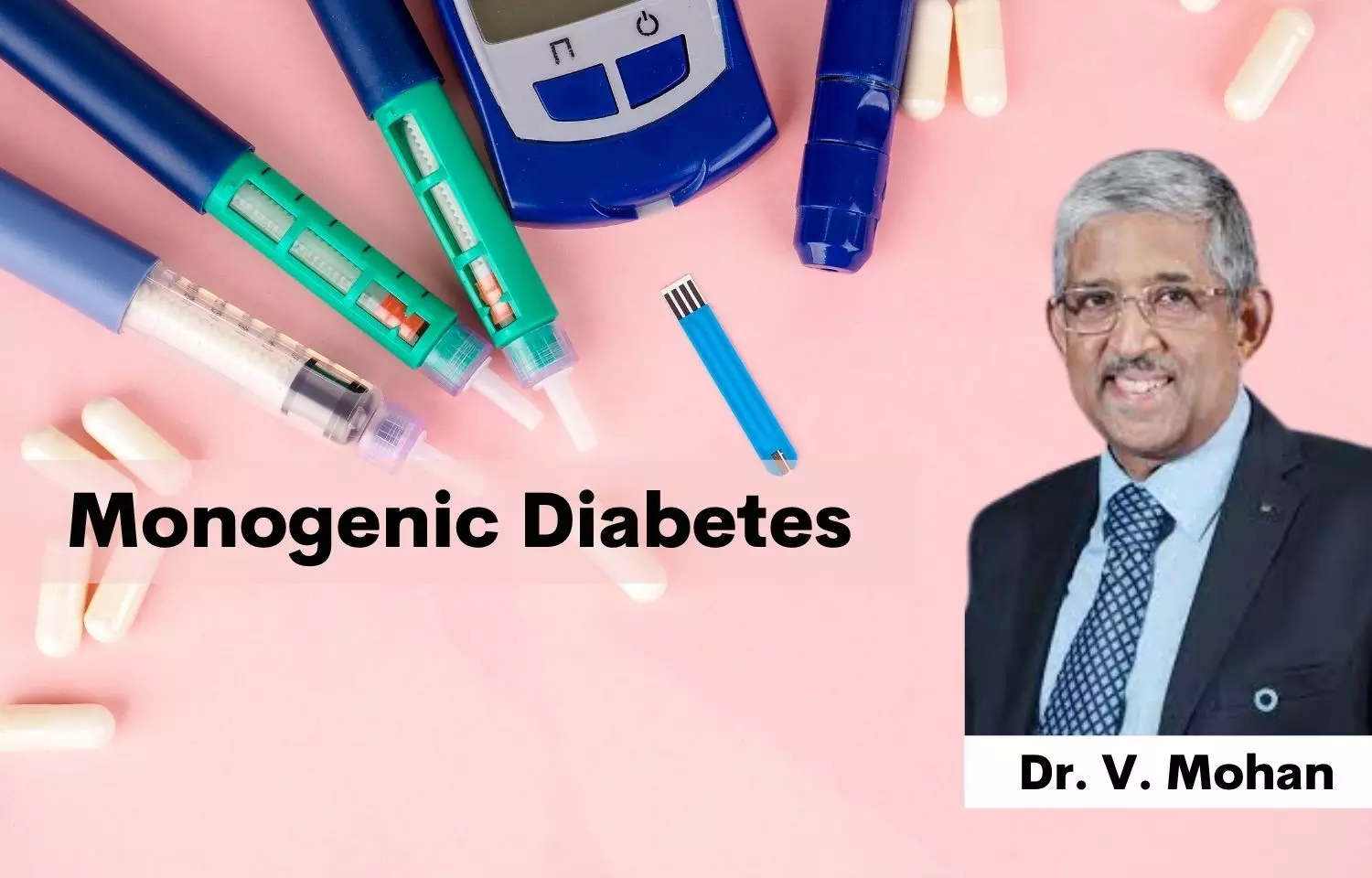 Whenever we talk about 'diabetes', we usually mean type 2 diabetes which generally affects adults. Indeed, 90% of all people with diabetes in India and worldwide, have type 2 diabetes. The second commonest type of diabetes, which usually affects children, is type 1 diabetes. Children with type 1 diabetes have to take insulin injections throughout their lifetime. Many people do not know that apart from type 1 and type 2 diabetes, there are other forms of diabetes, which are due to a defect in a single gene in their body. These forms of diabetes are called as 'Monogenic diabetes'. Monogenic diabetes usually occurs in children or young adults. Patients with monogenic form of diabetes are often misdiagnosed as have type 1 diabetes and asked to take insulin injections throughout their lives.
Types of Monogenic Diabetes
Maturity Onset Diabetes of the Young (or MODY)
This type of diabetes affects children or youth, and family history of diabetes can be traced to three or more generations. There are several subtypes of MODY and many of these can be controlled with tablets. MODY is commonly caused by a variant in the HNF1A, HNF4A or GCK genes, but there are up to 14 subtypes of MODY. In patients with many subtypes of MODY insulin injections can be stopped and they can be treated with tablets, which, often works better than insulin in these cases.
The second form of monogenic diabetes affects children below 6 months of age and is therefore known as 'Neonatal Diabetes'. At this age type 1 diabetes is uncommon. Neonatal diabetes is due to genetic defects in pancreatic insulin secretion and these can be corrected by giving antidiabetic tablets, especially if there are variants in the KCNJ11 and ABCC8 genes. Children with neonatal diabetes are also often wrongly diagnosed to have type 1 diabetes and they may be unnecessarily taking insulin injections. By doing a simple genetic test, if neonatal diabetes forms which respond to tablets are diagnosed, these children can stop insulin and be treated with tablets. It's like a miracle for them.
Congenital Hyperinsulinism with Hypoglycemia
This is a condition opposite to diabetes. Congenital hyperinsulinism (CHI) is characterized by persistent hypoglycemia or low sugars, in infants and children. CHI is associated with different mutations in ABCC8 and KCNJ11 genes.
Whom to do Monogenic Diabetes testing?
The American Diabetes Association (ADA) recommends considering genetic testing for Monogenic Diabetes in the following situations:

1. Diabetes diagnosed in the first 6 months of life.

2. Diabetes without typical features of type 1 or type 2 diabetes (negative diabetes-associated autoantibodies, non-obese or lacking other features of metabolic syndrome and those with a strong family history of diabetes)
3. Stable, mild fasting hyperglycemia (100-150 mg/dl [5.5 – 8.5 mmol/l), stable A1c between 5.6 and 7.6% (between 35 and 60 mmol/l), especially if non-obese.
When to suspect monogenic diabetes if initially thought to have type 1 diabetes?
• Diabetes diagnosed before 6 months of age

• Family history of diabetes with at least one parent affected.
• Preserved endogenous insulin production outside the honeymoon phase (>3 years), with detectable C-peptide.
• Pancreatic islet autoantibodies (GAD, ICA, Zinc Transporter or IA2) are absent especially at diagnosis
• Clinical features of a specific genetic subtype of monogenic diabetes. (eg. kidney abnormalities in HNF1B MODY)
When to suspect monogenic diabetes if initially thought to have type 2 diabetes?
• Young age at onset (<30 years)

• Three generation transmission of diabetes in the family.
• Not markedly obese or family members with diabetes who are of normal weight.
• No acanthosis nigricans.
• No evidence of insulin resistance.
• Clinical features of a specific genetic subtype of monogenic diabetes. (eg kidney abnormalities in HNF1B MODY)
However, occasionally monogenic diabetes may present even without these classical features.
Disclaimer: The views expressed in the above article are solely those of the author/agency in his/her private capacity and DO NOT represent the views of Medical Dialogues.
Read website full disclaimer here