Chili pepper consumption may lower mortality related to CVD, cancer: Study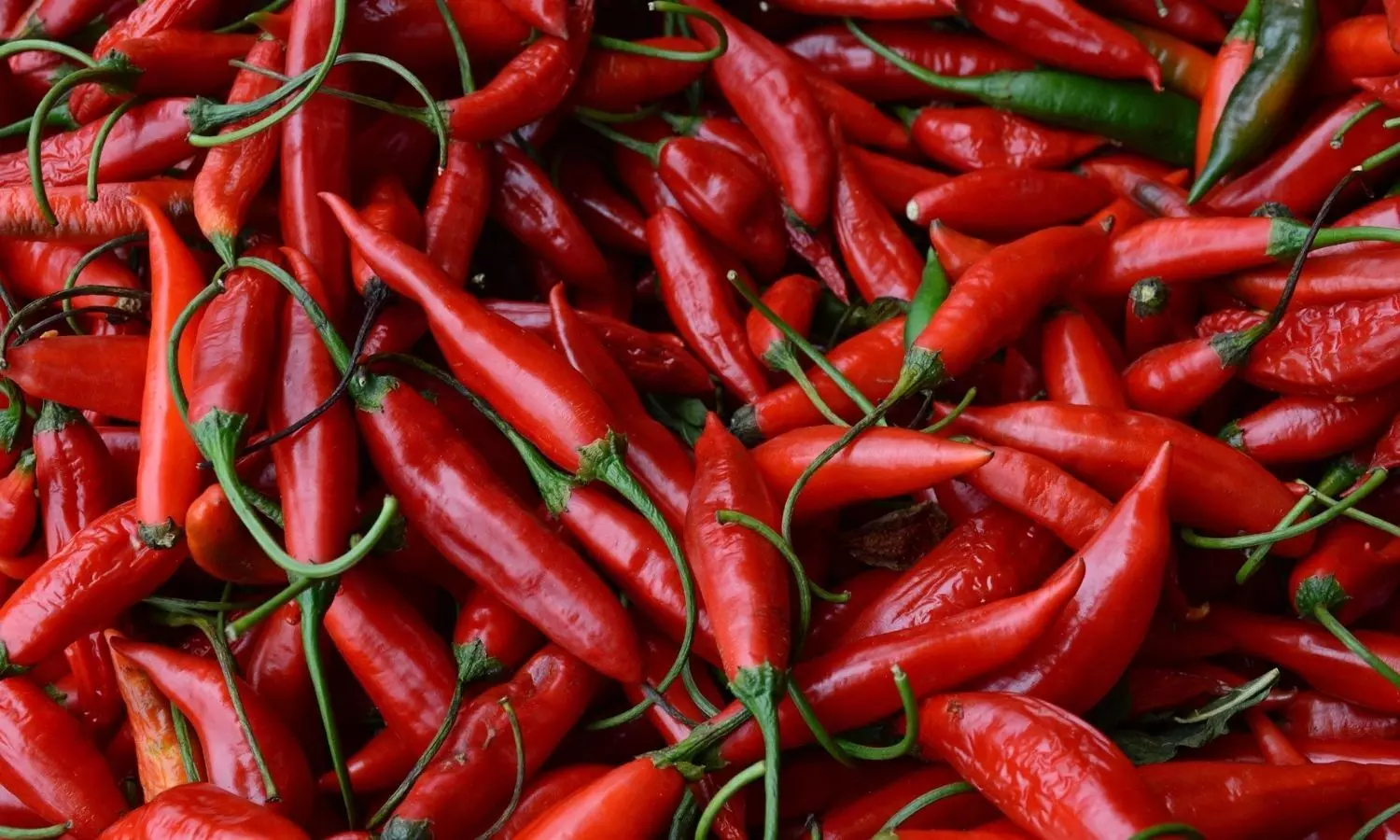 Cleveland, OH: A recent study in the American Journal of Preventive Cardiology reported that regular consumption of chili pepper (CP) is related to significantly lower all-cause, cancer, and cardiovascular-related mortalities. Deriving a standardized approach to guide the optimal mode and amount of CP consumption is however difficult based on current literature.
Findings imply that that CP consumption and/or supplementation of one of its bioactive components may provide significant health benefits.
Diet and nutrition play an important role in the prevention of mortality and cardiovascular disease. The American College of Cardiology (ACC) and the American Heart Association (AHA) has recommended plant-based and Mediterranean diets for the primary prevention of cardiovascular disease. Modifying diet intake such as reducing sodium intake, refined carbohydrates, and saturated fat, and limiting sugar, red meats intake has shown to reduce mortality risk compared to standard Western diets.
Against the above background, Bo Xu, Cleveland Clinic, Cleveland, OH, and colleagues aimed to compare mortality and other clinical outcomes associated with chili pepper consumption versus no/rare consumption of CP in a comprehensive systematic review and meta-analysis.
For this purpose, the researchers performed a comprehensive search using online databases from inception till January 16, 2020. It included observational studies and randomized controlled trials. While pediatric/animal studies, letters/case reports, reviews, abstracts, and book chapters were excluded.
The primary outcome was all-cause mortality and secondary outcomes were cardiovascular mortality, cancer-related deaths, and cerebrovascular accidents.
From 4729 studies, four studies met the inclusion criteria.
The study revealed the following findings:
Random effects pooled analysis showed that all-cause mortality among CP consumers was lower, compared to rare/non-consumers, with a hazard ratio (HR) of 0.87.
HR for cardiovascular mortality was 0.83 and for cancer-related mortality as 0.92. However, the HR for CVA was 0.78.
The mode and amount of CP consumption varied across the studies, and data were insufficient to design an optimal strategy guiding its intake.
"Regular consumption of chili pepper was significantly associated with lower all-cause, cardiovascular, and cancer-related mortalities," wrote the authors.
"However, it is difficult to derive a standardized approach to guide the optimal mode and amount of CP consumption based on current literature," they concluded. "This warrants the need for well-designed prospective studies to further investigate the potential health benefits of CP consumption."
Reference:
Manpreet Kaur, Beni R Verma, Leon Zhou, Hassan Mehmood Lak, Simrat Kaur, Yasser M Sammour, Samir R Kapadia, Richard A Grimm, Brian P Griffin, Bo Xu, Association of pepper intake with all-cause and specific cause mortality - A systematic review and meta-analysis, American Journal of Preventive Cardiology, Volume 9, 2022, 100301, ISSN 2666-6677, https://doi.org/10.1016/j.ajpc.2021.100301.
Source : American Journal of Preventive Cardiology