Dietary acid load during early pregnancy tied to risk of gestational diabetes: Study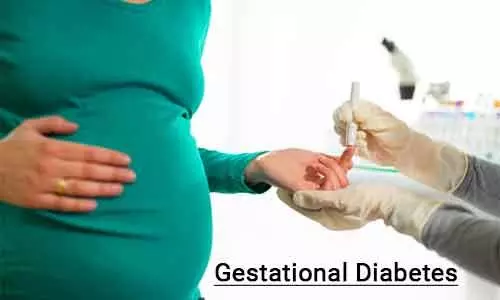 China: In a recent study, published in the Frontiers in Nutrition, the researchers have found a significant positive association between dietary acid load during early pregnancy and gestational diabetes mellitus (GDM) risk. This indicates that lowering food sources of dietary acid load could be an effective strategy for GDM prevention.
Previous studies have suggested an important role of dietary acid load in the development of type 2 diabetes. However, there are limited prospective studies on the relationship between dietary acid load and GDM in the pregnant population. Rui Zhao, Tongji Medical College, Huazhong University of Science and Technology, Wuhan, China, and colleagues, therefore, aimed to investigate the effect of dietary acid load during early pregnancy on the risk of GDM in Chinese pregnant women.
For this purpose, the researchers enrolled a total of 1,327 pregnant women from a prospective study of the Tongji Birth cohort (TJBC) in Wuhan, China. The assessment of dietary intake was done before 20 weeks using a 74-item semiquantitative food frequency questionnaire (FFQ).
Potential renal acid load (PRAL), net endogenous acid production (NEAP), and animal protein to potassium ratio (A:P ratio) were used for the estimation of dietary acid load. For GDM diagnosis, a 75g 2-h oral glucose tolerance test (OGTT) was performed at 24-28 gestational weeks.
Key findings of the study include:
· The mean (standard deviation) values for PRAL score, NEAP score, and A:P ratio were 0.8 ± 11.3 mEq/day, 45.3 ± 16.5 mEq/day, and 9.8 ± 6.0, respectively.
· There was a significant positive correlation between dietary acid load with the intake of red meat, poultry, fish, and eggs, and a negative correlation with the intake of vegetables, fruits, nuts, and legumes.
· Compared to the lowest tertile, the highest tertile of dietary acid load, including PRAL score (odds ratio [OR]: 2.26), NEAP score (OR: 2.02), and A:P ratio (2.08), significantly increased the risk of GDM.
· In addition, the dietary acid load was also significantly associated with an increase in 1-h and 2-h post-load blood glucose concentrations.
"This is the first prospective cohort study to our knowledge using a combination of three indicators to assess the association between dietary acid load and the risk of GDM," wrote the authors. "Collectively we found that dietary acid load scores in early pregnancy were positively related to GDM risk in Chinese pregnant women."
"Therefore, decreasing dietary acid load may be a preventive strategy for reducing GDM occurrence. Underlying biological mechanisms involved in these associations should be identified and explored further in future studies," they concuded. "Besides, there is a need for further large-scale studies to confirm the findings in other populations."
Reference:
Zhao R, Zhou L, Lei G, Wang S, Li Y, Yang X, Xiong G, Hao L. Dietary Acid Load Is Positively Associated With Risk of Gestational Diabetes Mellitus in a Prospective Cohort of Chinese Pregnant Women. Front Nutr. 2022 May 26;9:892698. doi: 10.3389/fnut.2022.892698. PMID: 35694169; PMCID: PMC9184257.
Source : Frontiers in Nutrition