Vegetable-rich diet does not significantly lower prostate cancer progression and death: JAMA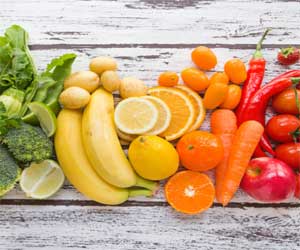 USA: Consumption of a vegetable-rich diet does not significantly lower the risk of prostate cancer progression and death, a recent study published in the JAMA journal has suggested.
The findings of the study do not support the use of this behavioral intervention to decrease prostate cancer progression in this population, as opposed to national guidelines that endorse the consumption of a vegetable-rich diet by prostate cancer patients. According to the guidelines, this might decrease cancer progression and death.
In Phase III randomized clinical trial, prostate cancer patients assigned to eat seven or more servings of vegetables and fruits daily saw no extra protection from the increased consumption of micronutrients.
J. Kellogg Parsons, UC San Diego Moores Comprehensive Cancer Center and VA San Diego Healthcare System, La Jolla, California, and colleagues conducted the Men's Eating and Living (MEAL) study to determine the effect of a behavioral intervention that increased vegetable intake on cancer progression in men with early-stage prostate cancer.
The study enrolled 478 men aged 50 to 80 years at 91 sites in the United States. The patients were diagnosed with early-stage prostate adenocarcinoma and enrolled in an active surveillance program in which patients defer immediate treatment until the disease advances. They were randomized to control group that received written information about diet and prostate cancer or to a telephone counseling behavioral intervention program that encouraged participants to eat foods high in carotenoids, such as leafy greens, carrots and tomatoes, and cruciferous vegetables such as broccoli and cabbage. Both groups were monitored for two years.
Key findings of the study include:

Among 478 patients randomized (mean [SD] age, 64 [7] years; mean [SD] PSA level, 4.9 [2.1] ng/mL), 443 eligible patients (93%) were included in the primary analysis.
There were 245 progression events (intervention: 124; control: 121).
There were no significant differences in time to progression (unadjusted hazards ratio, 0.96; adjusted hazard ratio, 0.97).
The 24-month Kaplan-Meier progression-free percentages were 43.5% and 41.4% for the intervention and control groups, respectively (difference, 2.1%).
"These data indicate that despite prevailing scientific and public opinion, eating more vegetables will not alter the course of prostate cancer. It will not, to the best of our knowledge, suppress or cure it. However, while eating a healthy diet rich in fruits and vegetables and getting more exercise may not cure cancer, it may keep the body stronger and healthier, which may help patients tolerate cancer treatments," wrote Dr. Parsons.
The study is the first randomized clinical trial to test the effect of dietary intervention on prostate cancer. It was conceived based on preliminary scientific data and on inquiries from patients who wondered if a change in diet would influence their diagnosis or treatment, said Parsons, a urologic oncologist at UC San Diego Health, San Diego's only National Cancer Institute-Designated Comprehensive Cancer Center.
Although the MEAL study revealed no positive impact on prostate cancer, it did demonstrate that behavioral modification can lead patients to make healthier food choices, said Parsons.
"A behavioral intervention that increased vegetable consumption did not significantly reduce the risk of prostate cancer progression among men with early-stage disease," concluded the authors.
The study, "Effect of a Behavioral Intervention to Increase Vegetable Consumption on Cancer Progression Among Men With Early-Stage Prostate Cancer: The MEAL Randomized Clinical Trial," is published in the journal JAMA.
Source : JAMA