................................ Advertisement ................................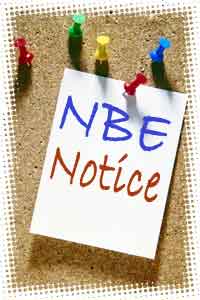 New Delhi: With the aim of connecting qualified medical faculties who have super-annuated from Armed Forces Medical Services and are available to join DNB, FNB offering institutions with the institutions who have vacancies in the respective specialities, the National Board of Examination recently published the list of 132 such medical teachers.
The superannuated  Medical Teaching Faculty of the Armed Forces Medical Services can render their services at the NBE affiliated medical institutions, and those medical institutes' authorities who want to avail their facilities can contact them as concerned, the notice added .
The list contains the names of 132 retired medical teachers in various specialities; who were attached with Armed Forces Medical Services.
................................ Advertisement ................................
The notification uploaded on the official website of National Board of Examinations (NBE) clearly states:
................................ Advertisement ................................
A list of the pool of superannuated Armed Forces Medical Services Officers who are qualified medical teachers in the respective fields is placed on this website, along with their contact details. The various Medical Institutions across the country could avail their services.

A facilitation cell for this has been created at O/O DGAFMS in the under the section of DG-ID. For further details, the following nodal officer of the facilitation cell may please be contacted. "
The contact details of the concerned nodal officer of the facilitation cell are mentioned in the notification.
To view the list of Retired Medical Teaching Faculty of the Armed Forces Medical Services, click on the link mentioned below:
http://natboard.edu.in/pdoof/pbnotice2019/ListofAFMSfaculty.pdf?h88233erhx90wsd0q2wk2s2ks2weuigfu3g77844jh89de
Candidates are requested to visit the original website of Nat Boards given below for the list or for details regarding notice the notice.
The National Board of Examinations had recently published the revised training charges and fee guidelines applicable for DNB and FNB candidates who have registered for the 2019 admission session.
Read Also: Attention: NBE revises Tuition fee for DNB, FNB training candidates
The revision of fee came a day after the National Board of Examinations published the revised Stipend guidelines for DNB/FNB candidates
Read Also: Minimum Rs 35,000 pm Stipend: NBE issues revised guidelines for DNB, FNB candidates
Garima joined Medical Dialogues in the year 2017 and is currently working as a Senior Editor. She looks after all the Healthcare news pertaining to Medico-legal cases, MCI/DCI decisions, Medical Education issues, government policies as well as all the news and updates concerning Medical and Dental Colleges in India. She is a graduate from Delhi University. She can be contacted at editorial@medicaldialogues.in Contact no. 011-43720751
To know about our editorial team click here
3 comment(s) on DNB, FNB Courses: NBE publishes list of Super-annuated AFMS officers who can join as Medical Teachers