Docs from Odisha meet twins Jaga, Balia at AIIMS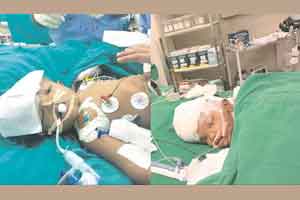 A team of doctors from Odisha today visited the conjoined twins from the coastal state, who underwent surgeries here for separation of their heads, to assess if they can to be shifted to AIIMS, Bhubaneswar for follow up treatment.Jaga and Balia, from Milipada village in Kandhamal district in Odisha, were craniopagus conjoined twins joined at the head, a very rare occurrence.
They were successfully separated after an 18-hour-long surgery at AIIMS in New Delhi in October last year.The team from departments of pediatrics, pediatric surgery, plastic surgery, medicine and neurosurgery met the doctors here looking after the children and received an update on their health condition.Four doctors were from the Cuttack Medical College while one doctor was from AIIMS, Bhubaneswar.A senior doctor at AIIMS, New Delhi said,
"We updated them about the condition of the children and suggested that they can be safely discharged and sent to Odisha for continued care."According to the doctors, Jaga is improving steadily and is on normal diet while his twin brother Balia is taking fluid and semi-solid food."His condition is improving steadily and tracheostomy is likely to be removed within a week," the doctor said.The first phase of the surgery on the twins was performed on August 28 when the doctors created a venous bypass to separate the veins that return blood to the heart from the brain.The final separation of the twin was performed by a team of around 30 specialists of the AIIMS neurosurgery, neuro-anaesthesia and plastic surgery departments on October 25.