Doctor detained by police after diarrhoea patient administered expired saline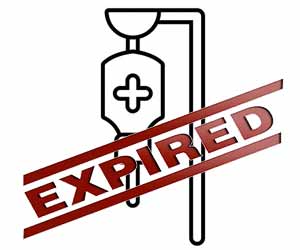 Odisha: Chaos erupted at Community Health Centre (CHC) in Mayurbhanj district following the administration of expired saline to a patient. Holding the doctor guilty for the administration, the kin of the patient created a ruckus at the hospital and police had to detain the doctor
The case concerned a patient who was admitted to the Community Health Centre (CHC) in Mayurbhanj district with the complaint of diarrhoea on Sunday. As a part of the treatment, he was administered the saline and later complained of nausea and headache.
"I admitted my father to the CHC and he was administered six IV fluid bottles by 1 pm. The doctor administered another saline at 8 PM. When 50 percent of saline emptied, I noticed that the IV fluid bottle bore expiry date of October 2019," patient's son told OTV. He further added that the hospital should take responsibility if my father experiences any side-effects.
The patient's son saw the expiry date on the saline bottle which shows October 2019. He immediately stopped the saline and alleged the doctor of medical negligence. The hospital was soon surrounded by the tense atmosphere as more relatives and friends of the patient gathered to create ruckus
On asking, the doctor blamed the on-duty nurse for the negligence. He pointed out to
Odisha TV
that it is impossible for a doctor to take care of everything and it was the responsibility of a nurse to check the expiry date on the IV before administering.
As the tensed atmosphere continued, police had to be called in at the hospital and took the doctor to the police station for detention. Sub-Division Medical Officer of Udala has been directed to probe the matter and necessary action will be taken against the doctor if found guilty, reports
The New Indian Express.
Read also:
Four Assam hospital staff suspended for administering an expired saline to a 12-year-old boy