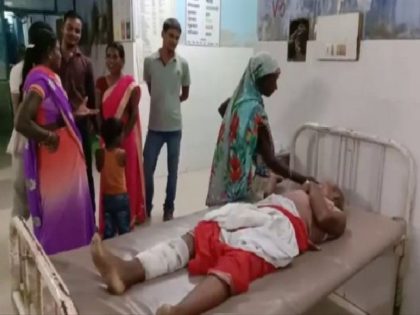 Gaya (Bihar): Human cry in the media ensued after a patient alleged that a surgeon instead of performing a Hydrocele surgery performed surgery on his right leg and inserted a rod in it. On the other hand, the doctor stated that there was an abscess on the right leg of the patient which had to be removed, otherwise; to perform hydrocele surgery, would have been risky for the patient.
This incident has occurred at Anugrah Narayan Magadh Medical College and Hospital (ANMMCH). It has been reported that as a patient was admitted for the hydrocele surgery. However, he was operated upon his right leg where the doctor inserted the ord and removed the abscess.
Hydrocele surgery is a procedure to repair a hydrocele, which is a buildup of fluid around a testicle.
................................ Advertisement ................................
The patient had filed a complaint against the doctor and claimed that he had come for Hydrocele surgery, but without any prior notice, a surgeon operated his leg and also inserted a rod in it.
According to Vijay Krishna Prasad, superintendent of the Medical College Hospital, he has received a written complaint on the issue and an inquiry committee was being formed to look into the matter. Follow up action will depend on the outcome of the internal inquiry.
................................ Advertisement ................................
He further stated, "Keeping in view the swelling on the patients' leg, the doctor must have performed the leg surgery on priority."
When asked for clarification on the case, the doctor who performed the Surgery told TOI that it is true that the patient was admitted for surgical procedure related to hydrocele. "However, in the operation theatre, I noticed that there was an abscess on his right leg. It was risky to perform hydrocele surgery as long as the abscess did not get fully healed. As such, I postponed the surgery of the hydrocele and operated the leg to cure the abscess," he said, adding: "My only fault is that I did not take the attendants into confidence and obtain his (patient's) consent for a procedure other than the intended one."
Read Also: MBBS Student Death: Surat Doctor asked to pay Rs 19.5 lakh Compensation for Medical Negligence
Author Details
Garima joined Medical Dialogues in the year 2017 and is currently working as a Senior Editor. She looks after all the Healthcare news pertaining to Medico-legal cases, MCI/DCI decisions, Medical Education issues, government policies as well as all the news and updates concerning Medical and Dental Colleges in India. She is a graduate from Delhi University. She can be contacted at editorial@medicaldialogues.in Contact no. 011-43720751
To know about our editorial team click here
................................ Advertisement ................................
1 comment(s) on Instead of performing Hydrocele surgery, Doctor inserted rod in my leg; alleges Patient