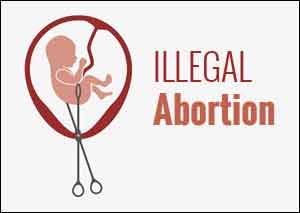 Chennai: A doctor has been booked and taken into custody for allegedly performing illegal abortions at her private clinic.
The matter came to light after a surprise check was conducted in Polur based Anbu Clinic by the District Legal Services Authority (DLSA), Tiruvannamalai. It was found that the clinic was owned by an MBBS doctor.
The inspection was performed by the Principal District Judge G. Mahizhenthi, Chairman of DLSA along with the secretary of district legal service authority K Rajmohan. The matter came under scanner after a case that had been registered by a girl who alleged that she had forcibly undergone abortion three times in the clinic.
................................ Advertisement ................................
Read Also: Doctor under scanner for suspected involvement in Illegal abortion racket in Nashik
................................ Advertisement ................................
The team found her complaint to be correct. On further investigation no records of treatment could be found in the clinic. The inquiry also revealed that the doctor had indulged in illegal abortions, reports the TOI.
The sub-judge and secretary of DLSA, K Rajmohan informed The Hindu, that "Though she was a qualified person with a MBBS degree, she did not hold a Diploma in Gynaecology and Obstetrics. There were no records of patients treated or prescriptions. There were four to five persons, who were engaged as staff but were unqualified."
The complaint was later forwarded to the Taluk Legal Services Committee, Polur. The DLSA directed the police authority to file a complaint against the doctor for violating the rules and regulations pertaining to MTP act and asked to take her in remand.
The police eventually registered a case against the alleged doctor under Section 312 (causing miscarriage) of IPC and took her under their custody for inquiry, adds TOI in its report.
Read Also: Cancel license of doctors involved in Illegal Abortions: Authorities write to Medical Council of India
Shagufta Joined Medical Dialogues has been associated as Editor for Education Medical Dialogues since the year 2018.  She is a graduate from Delhi University. She can be contacted at editorial@medicaldialogues.in Contact no. 011-43720751
0 comment(s) on Doctor in custody for performing illegal abortions