................................ Advertisement ................................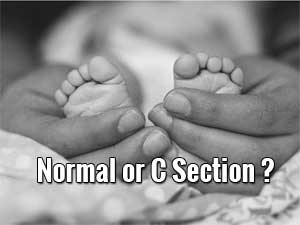 Madhya Pradesh: If in a private or a government hospital, any doctor is found performing more than 25% of all deliveries by Caeserean Section in a period of 5 years, his/her license should be cancelled- Such is the recommendation made by the  MP State Woman Commission to the state government, recently. The commission was seen responding to the rising rates of  deliveries through Caeserean Section in the state and also rising complaints that gynecologists are indulging in the practice of unnecessary C-sections.
State commission, after going through figures of normal and Caesarean deliveries in MP, made certain recommendations including initiating action against doctors that indulge in this practice. The major recommendation stated that All the hospitals shall have to display figures of Caesarean deliveries of the hospital so that a pregnant woman could decide about the treating doctor.
For the Purpose of Action in case of violations, the Committee suggested a analysis of deliveries done during a 5 – year period, and  actions would be according to the following
| | | |
| --- | --- | --- |
| Sno | % of Delivery Done by C-Section in a 5 year period | Recommended Action |
| 1 |  Upto 15% | This is acceptable. No Action will be initiated |
| 2 | More than 15%, but less than 20% |  Warning shall be issued |
| 3 | More than 20% but less than 25% |  Fine upto Rs 5 lakhs |
| 4 | More than 25% | Cancellation of Licence and Blacklisting of Doctor |
Speaking to Medical Dialogues Team, Mr.Pramod Dube, chief advisor to the committee that brought about the recommendations said, " These has been a sharp rise in deliveries through C-section in the past recent past. With this, even the thinking pattern of the public has changed. In earlier days people used to congratulate on Birth of baby .Now people hesitantly are seen asking whether delivery is Caesarean or normal."
"These are our recommendations to the state. The government may act as it deemed fit. The complaints are rising by the day and our insistence is that, this issue of unwanted c-section be addressed by the government. " he added.
................................ Advertisement ................................
Private hospitals perform more than thrice the number of c-section deliveries as compared to government hospitals, showed the data from National Family Health Survey-4 (2015-16), released by the Union health ministry in the month of March 2017
The data showed that Private hospitals carried out 40.9% caesarean sections (C-sections) as compared to 11.9% performed in government hospitals. The figures were a sharp rise from the previous survey figures which were 27.7% and 15.2% respectively. World Health Organisation recommends the "ideal rate" for caesarean sections to be between 10% and 15%
Meghna A Singhania is the founder and Editor-in-Chief at Medical Dialogues. An Economics graduate from Delhi University and a post graduate from London School of Economics and Political Science, her key research interest lies in health economics, and policy making in health and medical sector in the country.
She can be contacted at meghna@medicaldialogues.in.
Contact no. 011-43720751
................................ Advertisement ................................
17 comment(s) on Doctor to lose license if C-Section rate exceeds 25 percent: MP State Woman Commission