Doctor treats poor, underprivileged for free in Pune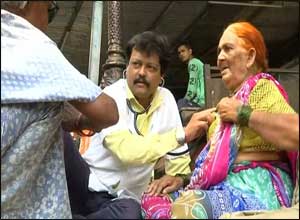 Pune: In a unique feat, a doctor in Maharashtra's Pune is treating the poor and underprivileged people for free to help them leave the begging trade and change their lives by working and earning for themselves.
Going unconventionally, Abhijeet Sonavne regularly visits temples and mosques and instead of praying he looks for beggars outside.
He provides them with free check-ups and medicines. He even rush them to hospitals if need be.
On his unique feat Abhijeet Sonavne said, "Everyday, I go to each temple and mosque and I every day go and check all the beggars and I try to provide all the medical services to these beggars. My basic aim is not to provide medical services. Provision of medical services is just a road to reach to their heart and my basic aim and motive is that they should work and they should not continue the begging trade."



#Maharashtra: Pune based doctor treats beggers for free, says, 'this is my way of giving back to the society. While treating these people I build a rapport with them & then try to convince them to quit begging & do some kind of work. I also assure them of my support in all forms' pic.twitter.com/kijFz0OFm5


— ANI (@ANI) May 27, 2018