Doctors cannot sign reports, without first verifying tests: Delhi Medical Council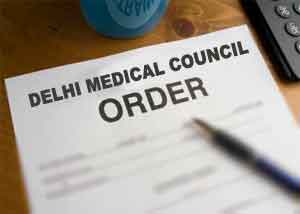 No medical practitioner should sign any clinical, Lab/Radiological Reports, Prescription or any other professional document unless he/she is directly involved in conducting the test and preparing the reports, Prescription and certificates.
This stern warning has been recently issued by the Delhi Medical Council, the state regulator for medical practitioners in the capital, which has taken strong cognizance of medical practitioners, particularly, those associated with laboratory medicine, lending their signatures to diagnostic labs
It has come to the notice of Delhi Medical Council, that some of the qualified registered practitioners (including Pathologist, Microbiologist, Bio-Chemist) have been found to be associating in connection with their professional practice with unqualified persons and lending their name and Delhi Medical Council Certificate to be used by unqualified practitioner in flagrant violation of the Regulation 1.6 of the Indian Medical Council (Professional Conduct, Etiquette and Ethics), Regulations, 2002 which mandates "every physician should aid in safeguarding the profession against admission to it of those who are deficient in moral character or education. Physician shall not employ in connection with his professional practice any attendant who is neither registered nor enlisted under the Medical Acts in force and shall not permit such persons to attend, treat or perform operations upon patients wherever professional discretion or skill is required."
The council, recently through a recent public notice, warned medical practitioners from indulging in such practices
It is directed that the medical professionals registered with the Delhi Medical Council should refrain from such associations, as the same constitute professional misconduct, rendering such doctors liable to disciplinary action.
Medical Dialogues team had recently reported that on the same issue, Delhi Medical Council (DMC) had ordered the suspension of a pathologist for a period of 365 days on account of professional misconduct for selling his name and signature to a laboratory which did not even have required infrastructure.
Read more at Medical Dialogues: Pathologist suspended for Selling Signatures: Delhi Medical Council