Pathologist suspended for Selling Signatures: Delhi Medical Council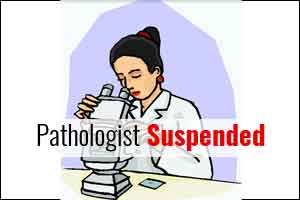 New Delhi: Delhi Medical Council (DMC) has ordered the suspension of a pathologist for a period of 365 days on account of professional misconduct for selling his name and signature to a laboratory which did not even have required infrastructure.
The move came in response to a complaint that was forwarded to the DMC by  Shri Ajay Arora,  Sub-Divisional Magistrate (Mayur Vihar), who during his field visits came across Health Scope Path Lab (C-3/75. Ne, Kondali, Delhi-I 10096) in a shabby condition which was owned by Shri Aditya Kumar Jha. The said owner informed that he pays Rs. 2500 per month to pathologist Dr Rakesh Kumar Bhatnagar for using his scanned signature .
It was further pointed out that Dr. Rakesh Kumar Bhatnagar had been indulging in professional misconduct by issuing pathology reports under his signature without supervising the conduction of pathology/biochemical tests or visiting the pathology lab, reports are being issued.
In response to the complaint the Delhi Medical council found the doctor guilty, thus barring from practicing for a period of one year on account of selling his name and signature. Speaking to Medical Dialogues Team, Dr Girish Tyagi, Registrar, Delhi Medical Council Said," Dr. Rakesh Kumar Bhatnagar failed to prove that he was supervising the aforementioned lab / tests being done and, therefore, failed to discharge his duties as pathologist, jeopardizing the safety of the patient  visiting the health Scope Path Lab. Shri Aditya Kumar jha who runs the health Scope Path Lab stated that Dr. Rakesh Kumar Bliatnagar used to visit the Lab once a week and he permitted the use of his scanned signature without visiting and supervising the lat/lab tests."
Dr Tyagi further informed that the pathologist's punishment had been enhanced after the council found that he was a repeat offender.
"Dr. Rakesh Kumar Bhatna, has been conducting himself in a manner which is highly unprofessional and unbecoming of a medical practitioner and name of Dr. Bhatnagar be removed from the State Medical Register of the Delhi Medical Council for period of 180 days, which was enhanced to 365 days as he was found be a Repeat offender and was found earlier guilty of professional misconduct twice and was suspended twice for the same. " Dr Tyagi added.