Dr Mahesh Verma, Director, Principal Maulana Azad Institute of Dental Sciences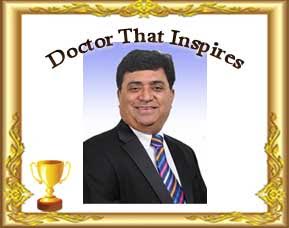 New Delhi: Maulana Azad Institute of Dental Sciences, a sprawling government dental College and  Hospital that stands quietly on Bahadur Shah Zafar Road, is headed by Dr Mahesh Verma, an Indian Prosthodontist adorning its Director/ Principal position, has over the years developed from a dental school of 'meager proportions into a centre of Excellence.'
The Credit for it goes to Dr Verma who has stayed with it for the past 30 years and instilled into its students the proficiency and professionalism it takes to make it the success story, that it is today. A 2014 Padma Sri awardee Dr. Verma is the spirit behind the institution and to whom the credit must go for having made it into the most premier dental institution of the  country.
This gritty Prosthodondist  joined the place in 1985, when it was not even a dental college, but just a part of a medical college with a mere 20 admissions and no building to call its own. His initial efforts gradually made the government aware of the necessity of the Dental college needing to have an identity of its own, separate from  the Medical College, whether in terms of infrastructure, equipment, faculties, or  space.
Dr Verma spent his energy sensitizing the government at a time when people were unaware of the role dentistry could play in healthcare and the modern magnitude of the science. Confronted with issues and challenges involved in the , It took Dr Verma and his team almost 15 years to create a fully-functioning separate dental college, all the while changing the mindset of the people and government of understanding the significance of  dentistry as a separate Science from MBBS having a separate identity, course and Council with clear cut regulations.
The journey to make the best dental college in the country was not an easy one. Owing to the lack of facilities, the college was de-recognised in the year 1993.  The sheer will-power of Dr Verma and his team took the dental college from a de-recognized status to becoming country's number one dental institution of the present times; for years in a row.
Dr Verma's journey through the years can full of challenges, henceforth, for it involved not only taking  on the project , its  construction, getting it equipped, staffing but most important ensuring its smooth running. However, his tireless efforts finally resulted in a NABH accreditation, which has continued to stay with t he institution and the patient footfall today has risen to an astonishing 1500 to 2000  patients, some days even more. Post graduation in the institute was introduced in 2007 and the institute currently houses  nine specialty departments of dentistry in the institution. MAIDS is also  proud of being an institution that attracts the top 10 students of Dental Sciences for post graduate study to it from all over the country.
The development of MAIDS has been a boon to patients as well. A rare feat in the capital, even with the development of the private sector, MAIDS is the first place where the residents of the city run to in case of toothache at night. Despite recent intense privatization, this government institute has managed to keep an upper hand over all, with its latest technological inputs, state of the art machinery, and a highly professional manpower that attracts patients from all walks of life, all classes of society, all parts of the country, even the world to it, for quality treatment
Story by : Medical Dialogues Team
Nomination by: Dr Prem Aggarwal, MD Sanjeevan Hospital, New DElhi