Dr C Gopalan, Former DG ICMR, Eminent Nutritionist passes away at 101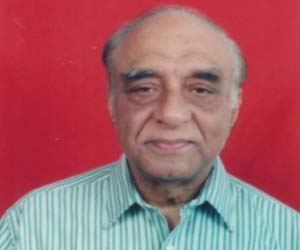 New Delhi: Former Director-General of Indian Council of Medical Research  (ICMR) and father-figure of Nutrition research in India Dr Coluthur Gopalan passed away on October 3rd 2019 at his residence in Chennai after suffering a brief illness. Dr C Goplan was born in 1918.
During his seven decades of active research career, Dr C Gopalan occupied many prestigious positions. He served as the Director National Institute of Nutrition, Hyderabad from 1961 to 1974 and as Director General of Indian Council of Medical Research (ICMR), New Delhi from 1974-79. He was awarded the Padma Shri in 1970 and Padma Bhushan in 2003.
Dr C Gopalan was a scientist of international eminence and has spearheaded the cause of Nutrition science for several decades. His contribution towards the betterment of nutrition of population has benefited not only India but also other developing countries especially Southeast Asian.  His contribution has helped to strengthen and inspire movements for the eradication of under-nutrition in many other Third World countries.
Under his leadership as Director NIN, Hyderabad a wealth of information was generated to tackle problems such as Protein Energy Malnutrition, Vitamin A deficiency, Phrynoderma, Lathyrism, Fluorosis and Pellagra.   The National Nutrition Monitoring Bureau (NNMB) was also started by him.
During his tenure, as the Director-General of ICMR Dr C Gopalan is credited with envisioning and helping build three national institutes for research on Leprosy, Malaria and Vector Control under ICMR.
Read Also: Padma Shri Awardee Nephrologist Dr H L Trivedi no more
"NIN today bears testimony to his genius as an architect and father of Nutrition sciences in India. Research under his leadership formed the basis of major national nutrition programmes initiated in the 1970s - ICDS, Massive Dose Vitamin-A and Iron supplementation. His contributions are invaluable and the loss due to his departure is irreparable", said Dr. R Hemalatha, Director NIN, Hyderabad.
"Dr C Gopalan was visionary institution builder. He viewed medical and nutrition science from a holistic perspective and always wanted to address them taking a multi-disciplinary and multi-sectoral approach. His contributions to medical science in general and nutrition science in particular are immense. He infact brought nutrition to the centre stage and was instrumental in putting it as an important driver in developmental plans and policies of the country", said Dr. Balram Bhargava, Secretary, Department of Health Research (DHR) and DG, ICMR.
After his retirement as DG, ICMR, Dr C Gopalan founded the Nutrition Foundation of India.  Dr C Gopalan was also responsible for forging a fraternity of Asian nutrition scientists which led to the formation of the Federation of Asian Nutrition Societies (FANS). Incidentally, he was conferred the first FANS Living Legend Award recently in August 2019.
Among the many honours that Dr C Gopalan received, Life-time Achievement Award from National Academy of Medical Sciences (NAMS); Fellowship of Royal Society, UK; Living Legend Award of International Union of Nutrition Sciences (IUNS) were some significant ones.
Read Also: Great loss: Renowned Orthopedician dies after being run over by speeding bus on highway