Dr Jitendra for promoting PPP model in health-care services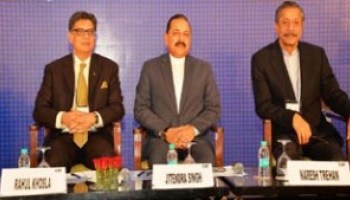 NEW DELHI: Union Minister of State (Independent Charge) for Development of North Eastern Region (DoNER), MoS PMO, Personnel, Public Grievances, Pensions, Atomic Energy and Space, Dr Jitendra Singh made a strong plea for promoting PPP (Public-Private Partnership) model for healthcare services.
Speaking at a panel discussion on "Leapfrogging to the future – Vision 2030" at the 13th India Health Summit 2016 organized by the Confederation of Indian Industry (CII), Dr Jitendra Singh, flanked by renowned Cardiologist Dr Naresh Trehan and President Max Group & Chairman Max India Rahul Khosla, said that in a country as heterogeneous as India, optimization of healthcare services is only possible through a healthy mix of both public and private sectors.
He said, however much privatization mushrooms in the country, it will not be able to replace public sector in to simply because vast areas in remote and rural parts still continue to be catered only by the public sector. Similarly, on the other hand, he said, the private sector also cannot sustain for long if it confines its services only to urban or semi-urban regions.
Dr Jitendra Singh said, with information technology having taken over in a big way and services like telemedicine, etc., becoming the order of the day, India today has the advantage of having same expertise and facility available for healthcare as in the most developed countries of the world. The only issue now is how best to make use of it for all sections of population from every nook and corner.
As we move ahead to promote healthcare services and medical education, Dr Jitendra Singh said, on the one hand we will have to do the course-correction for conscious or inadvertent lapses of the past, and on the other hand we will have to plan for a more constructive outcomes for the future. He said, the policy planners cannot overlook the fact that 1/3rd of the population of India still does not enjoy access to adequate hospital bed-care, while the patient-doctor ratio is far below the global standards in spite of ever increasing number of medical colleges and mushrooming of medical institutions.
A mechanism will have to be devised, said Dr Jitendra Singh, wherein the private and public sectors can supplement each other's efforts to make their presence available in a more uniform manner and the concentration of healthcare facility in cities also gets diverted to the peripheral areas. For this, he said, the Union Ministry of Health & Family Welfare can be proposed to evolve a mechanism of single window clearance involving different Ministries dealing with clearing and other issues relating to the setting up of healthcare services.
Dr. Naresh Trehan, while speaking on the occasion, spoke of certain constraints which the private institutions continue to face in spite of their willingness to extend their services to peripheral parts of the country and sought the government's intervention to facilitate the same. He cited the example of successful PPP model project undertaken by Medanta Hospital with the Haryana State Government for successful completion of Tuberculosis eradication targets in that State.