Dr Kafeel approaches senior officials for Laxity by Gorakhpur police in probing his brother shootout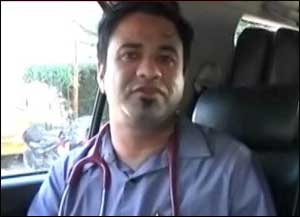 Lucknow: 
The pediatrician, Dr Kafeel Khan, booked for the alleged lack of oxygen supply at Gorakhpur's BRD Medical College last year, met senior police officials on Thursday for action against the cops for showing 'laxity' over the shootout of his brother.
Dr Kafeel's brother, Kashif Jameel (34), was shot down by three unknown assailants on Sunday night. He sustained three bullet injuries and was admitted at the Trauma Centre of the KGMU.
The pediatrician, met Additional Director General of Police ( law and order) Anand Kumar and apprised him about the 'laxity' of the Gorakhpur police officers in probing his brother shootout.
Though Dr Kafeel wanted to meet the DGP O P Singh, but a he was not available, hence he put up the issue before ADG.
"Gorakhpur police officers had assured that the criminals involved in the shooting would be nabbed withing 48 hours but even after four days, nothing progressed. Superintendent of Police, Circle Officer and the Station House Office of Gorakhpur should be punished for their 'laxity'," he demanded.
Dr Khan, was booked after 30 children died in BRD Hospital last year due to alleged lack of oxygen supply.
He was sent to jail in September 2017 and released on bail by the High Court only in April 2018, after the court found no evidence to prove medical negligence on part of Dr Khan in dispelling his duties to save the children.
Dr Khan had recently volunteered to serve in the Nipah virus hit Kerala and was invited by the Chief Minister of Kerala Pinarayi Vijayan to offer his services. However, the offer was later turned down, when doctors in Kerala started opposing Dr Khan's intervention.
Read also: 
Miscreants open fire at Dr Kafeel Khan's brother