Dr Kafeel Khan Undergoes Medical Checkup; Cries out he was FRAMED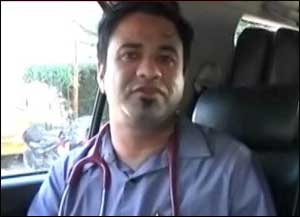 Gorakhpur: Two days after his wife alleged that the jailed doctors have been denied medical treatment, Dr Kafeel Khan was brought to a district hospital for medical checkup under strict security.
The district hospital's cardiologist Dr K K Shahi tested his blood pressure, carried out other tests and advised him to undergo complete lipid profile test to ascertain risks of heart ailments.
After the tests, the police tried to take him away without any media interaction but on the way from cardiology department to the police vehicle, he told reporters present there that he was being framed.
"It is a complete administrative failure and I have been framed. When the budget was not released from the higher level, where from the payment could have been made (for oxygen cylinders)?" he asked.
Asked if the jail administration was providing medicines to him, he replied in the affirmative. "Yes, they are giving (medicines)," he said.
But before noon, the police bundled him into the vehicle and he was not able to answer as to why he did not get bail despite Manish Bhandari, the director of oxygen supplier firm Pushpa Sales, got the relief.
Dr Kafeel's tests were to be carried out last week but due to lack of sufficient security forces, it was delayed.
Read More: Jailed Gorakhpur doctors Being denied Medical treatment: Dr Kafeel Khan's Wife
When contacted, district jail superintendent Ramdhani said, "For last eight months, Dr Kafeel is in the district jail and he felt uneasiness and high blood pressure symptoms on April 12, when the officials called the jail's cardiologist for his tests and the doctor advised for ECHO test.
"But, due to lack of adequate security force, it got delayed. More policemen were provided yesterday from the police lines for his security but his tests were postponed because of the doctors' strike at the district hospital. Today Dr Kafeel was taken to the district hospital for the tests," he said.
Dr Kafeel is among the nine accused of the BRD Medical College and Hospital case involving deaths of 63 children, including infants, in August 2017 within four days due to disruption in the supply of oxygen to medical owing to non-payment of dues to the vendor.
Dr Khan's wife Dr Shabistan Khan on Tuesday had alleged at a press conference at her home that her husband and other doctors were being denied medical care in jail.
Read Also: Gorakhpur children death: UP police apprehends Dr Kafeel Khan of BRD Medical College