Duty exemption withdrawal on drugs to boost Make in India: Government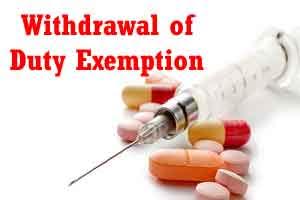 NEW DELHI: Centre's move to withdraw customs duty exemption on imports of over 70 drugs, including life- saving ones used for treating cancer and HIV, is in line with the Make in India programme, as the government claims it will boost domestic manufacturing, Parliament was informed.

"The above action of the government to withdraw exemption also contributes to the Make in India strategy," Minister of State for Chemicals and Fertilisers Hansraj Gangaram Ahir said in a written reply to the Rajya Sabha.

Earlier this month, the government had withdrawn customs duty exemptions on 74 drugs, including life saving ones used for treating cancer and HIV.

But within few days, in the face of criticism from various quarters, the government had restored exemption on three of these 74 drugs drugs that are mainly used for treatment of hormonal disorders, growth failure and haemophilia.

The move to withdraw customs duty exemptions was criticised as it would lead to a rise in prices of essential medicines.

The government had defended it saying drugs removed from exemption list were capable of being produced in India and such a move would promote domestic manufacturing.

The medicines on which customs duty was imposed included the ones used for treating kidney stones, cancer chemotherapy and radiotherapy, life-threatening heart rhythm disorders, diabetes, Parkinsons disease, bone diseases and antibiotic to treat infections.

Besides, drugs used for bacterial infections, leukemia, anaesthetic medication, human immunodeficiency virus (HIV) or hepatitis B virus cells, allergies, arthritis, lupus and ulcerative colitis were also removed from the exemption list, which originally had about 300 drugs.