Ebola nurse named Time magazine person of the year dies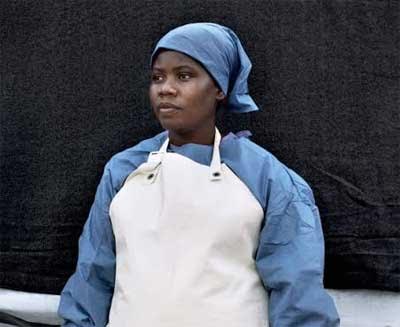 Monrovia: Salome Karwah survived Ebola after it killed both her parents and eight other relatives, then returned to her clinic to help countless others as she had become immune to the deadly virus. Her face graced the cover of Time magazine when it recognized the brave health care workers battling Ebola in 2014.
But in a heartbreaking reminder of just how strong fear remains in Liberia, her husband says the nurses on duty were too afraid to touch Karwah when she experienced complications after childbirth last month.
"I personally went into the emergency ward to bring a wheelchair to take my wife into the operation room," James Harris, a psychosocial counselor, told The Associated Press.
Karwah died two weeks ago at age 31, several days after her fourth child was delivered by caesarian section. It was a tragic end for a woman who had fought tirelessly against the stigma of Ebola.
"Salome's own experience of Ebola gave her incredible empathy for the patients that she worked so hard to care for," said a statement from Doctors Without Borders, known by its French acronym MSF. "Our many staff who remember working with her speak of her strength and compassion, but also of her smile.
"She made a huge contribution to MSF's work at the height of the outbreak in Monrovia."
The outbreak in West Africa was the deadliest ever of the virus, with about 11,300 people killed. Ebola is spread through bodily contact with the fluids of someone sick enough to show symptoms.
While the World Health Organisation declared an end to the outbreak in June 2016, some Liberians still wrongly fear that survivors can transmit the virus.
Tolbert Nyenswah, the man who led Liberia's Ebola fight and now heads the country's newly established National Public Health Institute, said he could not confirm reports that health workers were frightened to treat Karwah because of her Ebola survivor status as she suffered seizures.
He said the death was being fully investigated to know "what really went wrong."
"Normally if a caesarian section is conducted, the person is supposed to stay in the hospital for seven days and monitored to see whether there are complications," Tolbert said. "But to my understanding, that protocol was breached; she spent less than that in the hospital and was discharged, and when she was facing complications her husband took her back to the hospital to seek further care."