Emergency medical procedures to remain free for outstation patients in Goa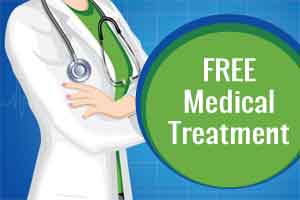 Panaji: Goa Chief Minister Manohar Parrikar announced that outstation patients will continue to get free-of-cost emergency medical procedures in the state-run hospitals, although they will be charged nominal fees for other medical facilities.
Currently, the residents of Goa as well as patients from outside the state can avail the medical facilities free of cost in the state.
The government had yesterday announced that it would start charging nominal fees from the patients from other states for undergoing treatment at the state-run hospitals from January 1.
The state health department had earlier decided that from December, certain fees would be imposed on the patients from other states for getting treatment at the government-run hospitals. The decision was taken considering increasing rush at Goa Medical College and Hospital (GMCH) near here. However, the government had later put the plan on hold.
Talking to reporters here today, Parrikar said, "The Goa government is responsible for the Goans and therefore we will take care of Goans. We have no objections to treat the patients from neighbouring states, but we have applied minimal charges for them."
The chief minister was speaking after launching six new 108 ambulances near here.
"All the emergency procedures are free irrespective of who the person is and from where he has come," he said.
Parrikar said the non-Goan patients will not be denied normal procedures and will be charged only 20 per cent of the actual cost specified in Deen Dayal Swasthya Seva Yojana (DDSSY), a state health insurance scheme.
He said the local residents will have to produce DDSSY cards as a proof of being the residents of Goa to avail the facilities at these hospitals.
Besides the GMCH, the state runs two district hospitals,one each in Margao and Mapusa, besides several primary and community health centres.
Read also: 
Govt hospitals in Goa to charge outside patients