Updated guidelines on management of anaplastic thyroid cancer by American Thyroid Association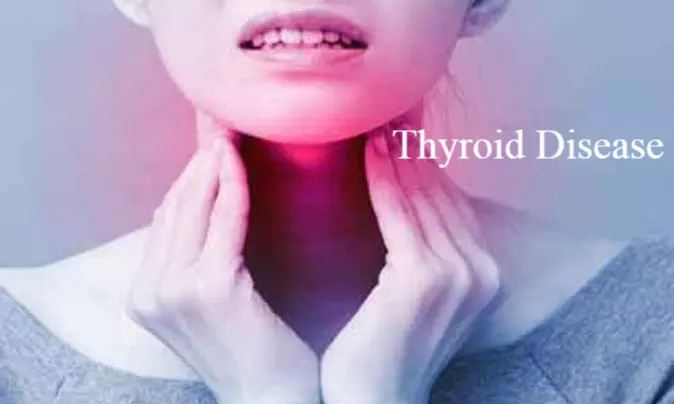 In a recent development,the American Thyroid Association Anaplastic Thyroid Cancer Guidelines Task Force has developed and laid down evidence-based recommendations to inform clinical decision-making in the management of anaplastic thyroid cancer (ATC). While all care must be individualized, such recommendations provide optimal care paradigms for patients with ATC, the team opined.

Anaplastic thyroid cancer (ATC) is a rare but highly lethal form of thyroid cancer. Since the guidelines for the management of ATC by the American Thyroid Association were first published in 2012, significant clinical and scientific advances have occurred in the field. The aim of these guidelines is to inform clinicians, patients, and researchers on published evidence relating to the diagnosis and management of ATC.
The guidelines include the diagnosis, initial evaluation, establishment of treatment goals, approaches to locoregional disease (surgery, radiotherapy, targeted/systemic therapy, supportive care during active therapy), approaches to advanced/metastatic disease, palliative care options, surveillance and long-term monitoring, and ethical issues, including end of life. The guidelines include 31 recommendations and 16 good practice statements.
The Key Steps in the Management of Anaplastic Thyroid Cancer have been summerised below.
1. Rapidly and definitively establish the diagnosis
 Because ATC is a highly dedifferentiated cancer that retains few characteristics of noncancerous thyroid cells, attaining a definitive diagnosis can be challenging, yet critical. Time is also of the essence because of the very rapid growth rate of ATC and due to the importance of early intervention in minimizing catastrophic airway compromise.
  • Differential considerations/mimics can include primary thyroid lymphoma, SCC of the head and neck, and metastatic cancer (especially from lung).
  • Early assessment of tumor mutations is key in expanding therapeutic options.
2. Attain multidisciplinary team engagement and coordination
 Coordinate early multidisciplinary involvement of surgeons, radiation and medical oncologists, endocrinologists, and palliative care teams to arrive at options for best care as outlined below.
3. Determine extent of disease
 • Staging with imaging is required to classify as stage IVA, IVB, IVC; this is best done with FDG PET/CT and/or alternatively with dedicated body CT or MRI.
 • Extent of local invasion must also be evaluated in parallel to assist in surgical decision-making, and requires laryngoscopy.
4. Undertake patient counseling to establish individualized patient goals of care
 Counseling must be provided by a team/individuals skilled in the surgical, medical, and palliative management of complex thyroid malignancies in which trade-offs counterbalancing risks and benefits with goals of care are completely discussed. This counseling should best involve not only the patient but also involve supportive individuals/family members.
5. Evaluate Surgical Options
 • The primary goals in stages IVA and IVB ATC patients within an aggressive approach to their care are complete resection and prompt transition to adjuvant definitive-intention therapy, as long-term survival may be attainable. Thus, surgical procedures should not generate a wound or result in complications that would prevent chemotherapy and radiation onset due to the risk of wound breakdown given the lack of data supporting an association between increased extent of surgery and improved survival outcomes.
 • In IVC ATC, the limited benefit resulting from surgery must be carefully tempered in consideration of other available palliative approaches, including radiation and systemic therapy.
6. Surgical decision-making
 Rapidly assess resectability determining tumor invasion of the larynx, trachea, esophagus, and status of the major vessels of the neck. Consider the need for tracheotomy, extent of thyroidectomy, neck dissection, and the need to avoid laryngectomy, esophageal resection, and major vessel reconstruction.
 Balancing morbidity from surgery with expected benefits within the context of patient-anticipated prognosis and individualized goals of care is paramount.
  Considerations:
   • Performance score/status.
   • Presence of distant metastasis.
   • Extent of local invasion of trachea and esophagus.
   • Need for urgent tracheostomy, understanding that placement of a tracheostomy results in immediate improvement in upper airway obstruction but requires significant education for care and understanding that tumor location and growth may make management of the tracheotomy complex.
   • Patient goals of care and willingness to accept anticipated morbidity of planned surgery.
7. Nonsurgical management decision-making
 Other than surgery, options may include postoperative or primary chemoradiation versus palliative radiotherapy, systemic therapy, or best supportive care considered within the context of:
  • Patient goals of care and willingness to accept anticipated toxicities of presented options.
  • Patient performance status and comorbidities and their impacts on feasibility of planned care.
  • Trade-offs from one approach to care versus alternatives.
8. Keep hospice/end-of-life care discussions in the foreground
 • Given the historically dire prognosis of ATC, especially if stage IVC, hospice should always be presented among care options.
 • Truth telling and realistic presentation of anticipated prognosis are critical in allowing sound patient decisions within their individual goals of care.
 • For some patients, hospice may be preferrable—even from the outset—in comparison with other alternative care options.
ATC, anaplastic thyroid cancer; CT, computed tomography; FDG, fluorodeoxyglucose; MRI, magnetic resonance imaging; PET, positron emission tomography; SCC, squamous cell carcinoma.
For full article follow the link: https://doi.org/10.1089/thy.2020.0944
Primary source: Thyroid
Source : Thyroid