Chronic rhinosinusitis affects Functional Brain Connectivity that may precede cognitive symptoms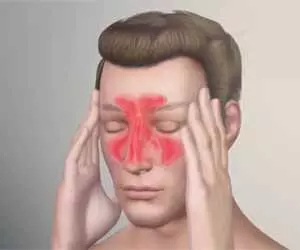 Chronic rhinosinusitis was linked with brain network changes that may precede cognitive symptoms in young people, finds a new study.
In a case-control study, patients with sinonasal inflammation had worse brain connectivity within a key functional hub that plays an important role in cognitive modulation. This region is also more connected to regions engaged during introspective and self-referential processing and less connected to areas involved in detection and reaction to stimuli.
There have been numerous significant improvements in our knowledge of the cognitive consequences of chronic rhinosinusitis in recent years.

This study was conducted by Aria Jafari and team with the idea of exploring the potential link between the underlying inflammatory illness and higher-order brain processes. The findings of this study was published in The Journal of American Medical Association on 8th April, 2021.
Twenty-two subjects had sinonasal inflammation (Lund-Mackay score [LMS] 10) and were compared to age- and gender-matched healthy controls (LMS = 0). These subjects were further classified as having moderate (LMS 14, n = 13) or severe (LMS 14, n = 9) inflammation. Participants were screened and excluded if they had a history of mental illness, neurological disease, or genetic disease. Participants with diabetes or cardiovascular disease were also barred from participating since these diseases might impair neuroimaging quality. Between October 2019 and August 2020, the data was accessible. The data was analyzed between May and August of 2020.
Participants with sinonasal inflammation revealed reduced brain connection within the frontoparietal network, a significant functional hub, in this case-control research of 22 patients with chronic rhinosinusitis and 22 healthy controls. This region also demonstrated enhanced connection to regions that engage during introspective processing and reduced connectivity to areas involved in stimulus detection and response. The extent of these variations grew with the severity of the inflammation (dose dependent). Cognitive tests revealed no significant correlations.
In conclusion, this study presents preliminary evidence for changes in functional brain connectivity as a possible cause of cognitive impairment in chronic rhinosinusitis patients. Future prospective studies are needed to evaluate whether these findings are applicable to a clinical chronic rhinosinusitis population.
Reference: Jafari A, de Lima Xavier L, Bernstein JD, Simonyan K, Bleier BS. Association of Sinonasal Inflammation With Functional Brain Connectivity. JAMA Otolaryngol Head Neck Surg. 2021;147(6):534–543. doi:10.1001/jamaoto.2021.0204
Source : The Journal of American Medical Association