Endoscopic Endonasal Skull Base Surgery Improves Qol with no long-term effects: Study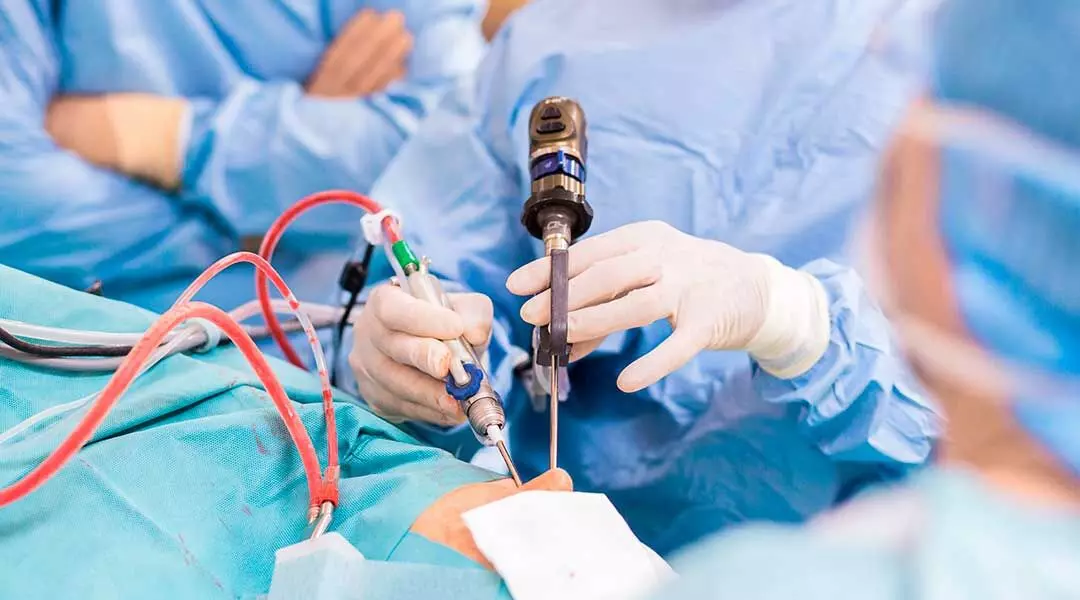 Endoscopic endonasal skull base surgery (EESBS) has been associated with a minimally invasive and effective approach for pathology of the anterior skull base and associated with less overall morbidity compared with open approaches. Significant surgical advances combined with technological development have established the nasal approach as the gold standard for the resection of pituitary tumors and other sellar lesions. The endoscopic approach has been shown to result in shorter hospital stay, with safer and faster recovery rates as well as having fewer complications when compared with open or microscopic approaches. The endonasal approach is associated with its own potential morbidity related to surgical manipulation or resection of normal and noninflamed intranasal structures to gain adequate access. Because the surgical procedure results in varying degrees of destruction of the nasal structure, some nasal symptoms may occur postoperatively such as crusting, rhinosinusitis, epistaxis, hyposmia, or nasal obstruction. Owing to the complicated and extensive nature of surgery, conceptually, the quality of life (QOL) is especially important in those with skull base lesions.

The impact of endoscopic skull base surgery outcomes on quality of life (QOL) is an active area of investigation in rhinology and skull base surgery. While several quality of life (QOL) measures have been used for skull base and nasal surgery patients, the Sinonasal Outcomes Test (SNOT) is the most appropriate tool to evaluate and assess sinonasal morbidity duly because it provides valuable and quantifiable data for measuring sinonasal complications as well as morbidity after skull base surgery. The survey includes sinusspecific domains, psychological domains, and sleep domains that assess general health.
The Sinonasal Outcomes Test Questionnaire includes 22 questions spread into 4 domains, namely, nasal, otologic, sleep, and emotional. The nasal domain of the SNOT-22 Questionnaire includes eight entities, six rhinologic symptoms (the need to blow nose, sneezing, runny nose, thick nasal discharge, loss of smell/ taste, and nasal blockage), and two postrhinologic symptoms (postnasal discharge and cough). The domain concerning sleep also contains eight questions (difficulty sleeping, waking in the middle of the night, lack of a good night's sleep, waking tired, fatigued during the day, reduced productivity, reduced concentration, restlessness, or irritation). In the otologic domain, stuffed ear, dizziness or vertigo, earache, and facial pain or pressure were the 4 entities of concern, while in the emotional domain, the patient was evaluated for sadness or a feeling of shame or frustration.
Dhaidan M. Alshammari et al conducted this study to review outcomes in patients having undergone endoscopic skull base surgery with a view to assess patient satisfaction after surgery, follow-up improvement and progression of symptoms, improve protocols so as to decrease morbidity and complications, and overall improve quality of life for the postsurgical patient.
The study was a single-center retrospective cross-sectional review with a sample of 80–100 patients undergoing endoscopic endonasal transsphenoidal surgery conducted at the ENT and Neurosurgery departments of King Fahad Specialist Hospital-Dammam (KFSH-D) for a period of 10 years from March 2010 to March 2020. Data were collected through hospital records and database, as well as from patients through phone call interviews. Records were reviewed for diagnosis, demographic features, and 22-item Sinonasal Outcomes Test (SNOT-22) scores noted at three points in time: prior to procedure and after, at 3 months and 6 months.
The primary outcomes expected were the changes in SNOT-22 scores compared at 3 distinct time markers: prior to the procedure and at 3 months, and at 6 months postoperatively.
Within the study cohort comprising 96 patients, the mean age of the participants was 39.5 ± 12.1 years, and diagnostic typing before and after histopathological investigations revealed maximum pituitary adenomas (46.9%) closely followed by CSF-related ailments (41.7%).
In the nasal domain, nasal blockage, runny nose, and decrease/absence of smell showed less numbers (1–12% approximately) at the 3rd month mark and decreased further (1–5% approximately) by the 6th month.
Patient complaints of dizziness remained the same after surgery (15.5%). The other three (ear fullness, ear pain, and facial pain) were decreased around 2–4% at the 3rd month from prior to surgery, but showed no further change.
Outcomes of difficulty in falling asleep and fatigue showed improvement by ∼2%, but the number of patients waking up at night (13.5%) and lacking a good night sleep (1%) remained constant even after the procedure.
The changes in the mean and standard deviation of the total SNOT-22 scores postoperatively at the 3rd month (9.5 ± 5.4) and the 6th month (8.8 ± 5.2) were statistically significant (p < 0.001) when compared to the preoperative score (10.8 ± 5.1).
With the wide view of the endoscope and, thereby, broadened surgical field, the extent of resection and oncologic outcomes have greatly improved, with shorter hospital stays and ease of return to daily activities. However, the nature of the endonasal endoscopic approach solicits some degree of sinonasal morbidity after the procedure, especially in those that transcend a simple transsellar approach.
"With the evolution of skull base surgery with endoscopic endonasal approaches, a holistic appraisement of outcomes is vital, with a rigorous measurement of functional outcomes and not limited solely to survival rates. Herein, QOL gains paramount importance. The present study shows that although there is a predicted passivity of symptoms in the post-EESBS period, several significant positive outcomes are seen. The increase in discomfort in the sleep domains after surgery is an issue to pursue and reason out. The overall SNOT-22 scores taken preoperatively and 3 and 6 months postoperatively were found to have improved significantly with no long-term effects."
Source: Dhaidan M. Alshammari et al; Hindawi International Journal of Otolaryngology Volume 2021
https://doi.org/10.1155/2021/6659221
Source : Hindawi International Journal of Otolaryngology