Oral Steroids do not Increase Risk of COVID 19 in Patients of chronic rhinosinusitis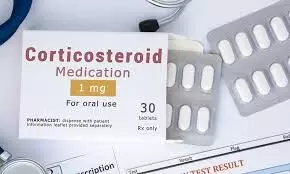 The role of corticosteroids in treating severe infections has been an enduring controversy. During the coronavirus disease 2019 (COVID-19) pandemic, rigorous data on the efficacy of corticosteroids have been limited. The pandemic has been a potent stimulus for clinical research addressing this controversy. In a recent study, researchers found that in patients with chronic rhinosinusitis (CRS), oral corticosteroids (OCS) does not increase the risk of COVID 19 infection. The research has been published in the journal Otolaryngology-Head and Neck Surgery on April 13, 2021.

CRS management frequently comprises conservative treatment, including a combination of topical and OCS. However, in the midst of the COVID-19 pandemic, clinicians may have been reluctant to prescribe OCSs out of possible concern for an increased risk of contracting COVID-19 or developing more severe COVID-19 symptoms.
Therefore, Dr Lauren E. Miller and Dr Neil Bhattacharyya conducted a study to explore the association between the use of OCSs and the development of COVID-19 in patients with CRS.
It was a historical cohort study of 1707 patients with chronic rhinosinusitis. The researchers stratified the patient subset into two groups: those who received OCSs within 28 days before their COVID-19 testing and those who did not and recorded the number of days between the initial OCS prescription and the COVID-19 test.
Key findings of the study were:
Upon analysis, the researchers found no statistically significant difference in the rates of patients with a positive diagnosis of COVID-19 who underwent an OCS treatment regimen compared to those who did not, both within 28 days and 14 days prior to the COVID-19 test.
The authors concluded, "Given OCSs are often a major component of medical management of CRS, this study proves helpful in counseling patients on risks of steroid use in CRS treatment during the COVID-19 pandemic."
For further information:
Article Source :
Otolaryngology-Head and Neck Surgery