Management of Allergic Rhinitis during COVID-19 Pandemic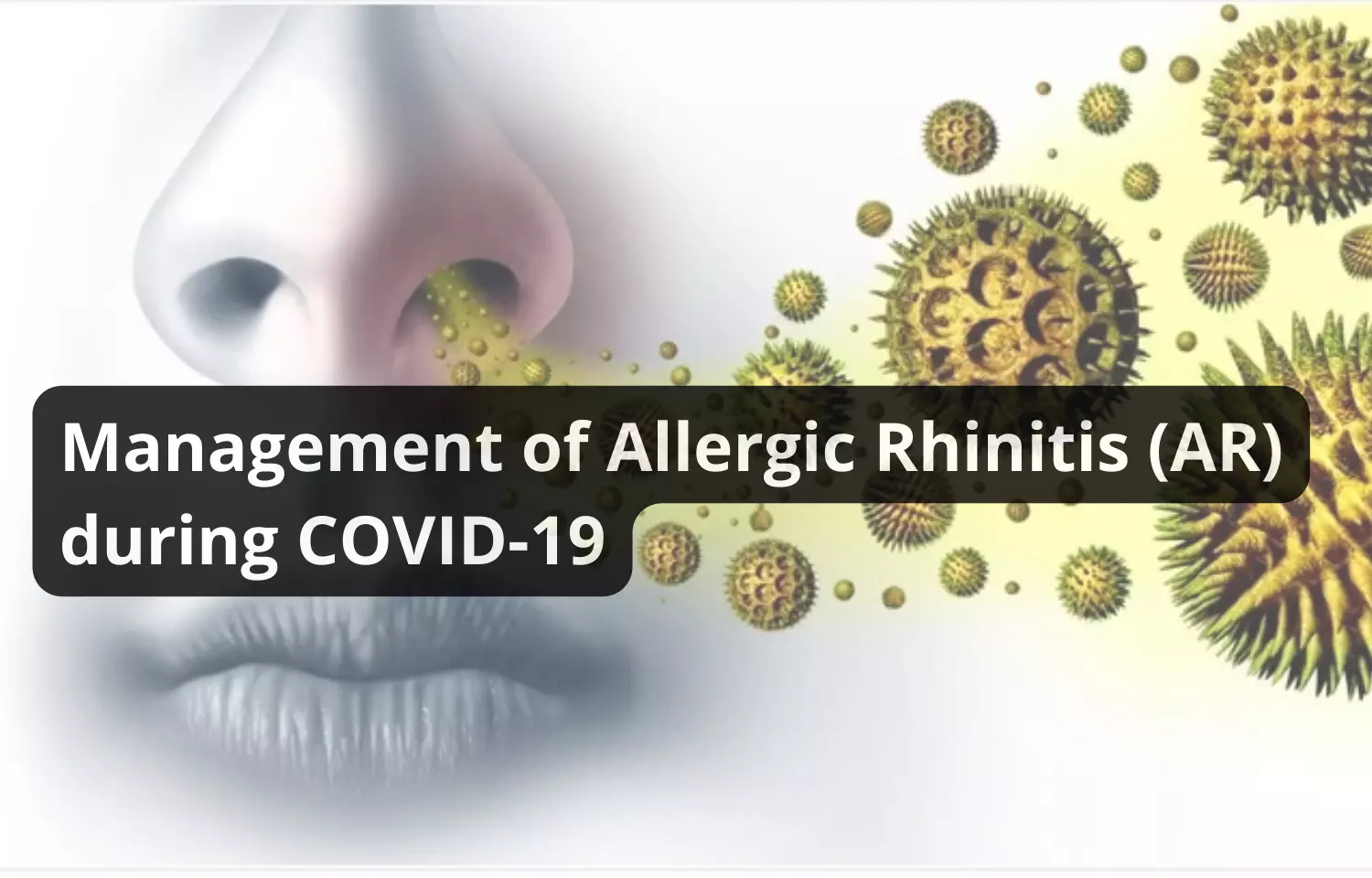 The COVID-19 pandemic caused by severe acute respiratory syndrome coronavirus 2 (SARS- CoV-2) has challenged the healthcare systems and altered the functioning of the doctor-patient system (1).
Presenting with a myriad of symptoms including cough, fever, nasal congestion, shortness of breath, and general malaise, COVID-19 is a unique polymorphic disease. Across various patient groups, other symptoms affecting several organ systems like muscle and joint pain, sore throat, headache, nausea, vomiting, diarrhea, coagulopathies, and an impaired sense of smell and taste, have also been observed. The widely varying presentation of such upper respiratory tract symptoms makes it difficult to distinguish COVID-19 from other upper respiratory tract infections. (2)
Owing to the common overlapping symptoms of allergic rhinitis (AR) and COVID-19, including nasal congestion, cough, shortness of breath, and olfactory and taste dysfunction (1), there is a lack of consensus among the medical community regarding the exact symptoms that can differentiate between these 2 diseases (2).
Considering such a vague scenario, physicians should keep themselves armed with required updates and facts on the proper diagnosis and management of allergic rhinitis.
This article aims to summarize the ways to distinguish AR from COVID-19 while elaborating on the guidelines and protocols that have been devised to manage AR in such times.
Allergic rhinitis –A look into its basics (3)
AR is an IgE-mediated inflammatory disorder of the nasal mucosa, often triggered by allergens like mites, domestic pets, pollen, insects, tobacco smoke, drugs like aspirin, automobile exhaust like oxides of nitrogen, occupational triggers like latex, and many others.
It is characterized as a symptomatic condition with anterior and posterior rhinorrhea, sneezing, nasal itching, and congestion. Associated symptoms like conjunctivitis, postnasal drip, eustachian tube dysfunction, otitis media, sinusitis, and dental and facial deformities may also occur.
Allergic Rhinitis and its Impact on Asthma (ARIA) has classified AR as an intermittent and persistent disease (based on duration), and mild or moderate-severe (based on the severity of symptoms and quality of life).
Differentiating AR from COVID-19: Identifying the subtle, yet prominent symptoms (2)
Due to the shared symptoms and polymorphic presentation, COVID-19 may be mistaken for AR.
Addressing this difficulty, the ARIA (Allergic Rhinitis and its Impact on Asthma)-EAACI (European Academy of Allergy and Clinical Immunology)-GA2LEN (Global Allergy and Asthma European Network) conducted a study to establish a global consensus and proposed an algorithm to distinguish the symptoms between AR and COVID-19.
They proposed that certain symptoms like profuse anterior rhinorrhoea, bursts of sneezing, stuffy nose, nasal pruritis, ocular itch and redness, and the presence of more than 3 nasal symptoms are some of the more common symptoms which are frequently seen in AR than in COVID-19.
Further, while respiratory tract symptoms are common in both, unlike AR, COVID-19 patients can present with symptoms of systemic involvement and even, organ damage.
Recommendations for the management of AR during COVID-19:
Management of AR during the COVID-19 pandemic has been a persistent concern throughout the world (4).
Under such situations, the onus lies upon the medical fraternity for timely diagnosis and initiation of treatment in suspected /diagnosed AR patients, to reduce the anxiety of suffering from COVID-19 and the consequent medical burden (4).
This section highlights the noteworthy recommendations that have been made for the timely diagnosis and treatment of patients with AR.
1. An algorithm was developed in China (4) specifically for the management of AR during the COVID-19 pandemic
Patients with AR who visited the hospital were strictly screened out for COVID-19 possibility. A body temperature lower than 37.3°C and a negative travel history within the past 14 days were confirmed, and then they were sent to an allergy clinic and kept on pharmacotherapy/immunotherapy.

If they stayed at home, patients were educated on allergen avoidance and advised to continue pharmacotherapy based on teleconsultations, prescription, and over-the-counter (OTC) drugs.
Health care workers were also recommended to take extra precautions and all specialized tests were suspended for patients with AR. With a high level of cooperation between health care workers and the patients, all the local patients were successfully treated by Allergen immunotherapy (AIT).
2. In a major decision, the ARIA-MASK study group and the European Academy of Allergy and Clinical Immunology (EAACI) developed an expert consensus statement (5) that suggested continuing using intranasal steroids, including spray, despite COVID-19 infection in AR. This decision is based on the rationale that discontinuing intranasal steroids would increase the risk of sneezing, leading to the uncontrolled spread of droplet infection of the virus. Sudden stopping of prescribed intranasal steroids also bears high chances of worsening asthmatic symptoms in AR patients.
3. Another study (6) was conducted in Turkey to determine the attitudes and experiences of allergists in allergy management during the COVID-19 pandemic.
Results revealed that allergists continued medications like antihistamines, inhaled corticosteroids, long-acting β2-agonists, montelukast sodium, and nasal steroids.
A remarkable compliance rate of 100% was noted among AR patients taking intranasal steroids.
Physicians showed concern about the safety of initiation and continuation of systemic steroids during the COVID-19 pandemic.
4. Shaker et al also put forward a guideline based on the Adhoc expert panel of allergy/immunology specialists from the United States and Canada. (7)
They advised that the evaluation of new patients or return visits of established patients with allergic rhinitis were not recommended under 'red zone' circumstances.
Face-to-face evaluations were shifted to telehealth visits.
Skin testing was also postponed and such patients were managed by avoidance measures and administration of medication.
5. The World Health Organization and the CDC recommend that systemic corticosteroids should be avoided due to a potential risk of prolonged viral replication in COVID-19 patients. (4,8)
6. Adriana et al also proposed certain recommendations for the management of AR during the COVID-19 pandemic. (1)
They suggested postponement of face-to-face evaluations and continuing their AR treatments with intranasal corticosteroids and second-generation oral H1-antihistamines.
They advised considering the continuation of allergen immunotherapy for non-infected patients and those who recovered from the COVID-19 pandemic and suspension in positive or suspected COVID-19 patients.
7. Jae Hyun Lee et. al. concluded that in Asian countries, the prevalence of allergic diseases such as asthma and allergic rhinitis (AR) is rising, particularly among the elderly; and research reveals that viral infections can act as major triggers. They also mentioned that stepwise treatment should be conducted according to the severity of symptoms in patients with AR. (8)
They recommended postponement of face-to-face consultation in patients with mild/intermittent AR or seasonal rhinitis and online teleconsultation should be preferred (8).
8. In a breakthrough study (9) researchers have confirmed that early intervention with Azelastine nasal sprays reduce the viral load in SARS-CoV-2 infected patients.
Azelastine is a third-generation antihistamine and is widely used in the prevention and treatment of bronchial asthma and AR. (10)

A study documented that pre-use of azelastine is associated with a decrease in COVID-19 positive test results among susceptible elderly people. Besides, it has been reported that antihistamine drugs could prevent viruses from entering cells.
Considering the fact that SARS-CoV-2 infects the host through angiotensin-converting enzyme 2 (ACE2) receptors expressed in the respiratory tract, and the primary administration site of azelastine is the nasal cavity where it binds to the same ACE2 receptors, such results strongly suggest azelastine's potential as a repurposed anti-viral agent, besides being an established anti-allergic agent. (10)
Key learnings:
Prompt differentiation of AR from COVID-19 symptoms is necessary to start with the optimal treatment and avoid further complications.
Teleconsultations are highly recommended. Screening for COVID-19, maintaining social distancing, and wearing a disposable surgical mask to prevent droplets spread from person to person.
Recommendations consistently highlight that intranasal steroids should be encouraged and taken as prescribed, while systemic steroids should be used with caution. Second-and third-generation antihistamines are also advised to be continued as prescribed.
Recent research reveals that antihistamines like azelastine act on ACE2 receptors in the respiratory tract, and help to reduce the SARS-CoV-2 viral load in COVID-19 positive patients; thus surpassing their established anti-allergy effects in AR patients and emerging as promising candidates during the pandemic.
The way ahead-The COVID-19 pandemic has thrown unforeseen challenges to practicing healthcare professionals.
Even though this is not the first coronavirus infection the world has faced, it is unlikely that this could be the last pandemic. The scientific community has been relentlessly working on various strategies which can mitigate the infection. Summarizing the experiences learned from various allergy centers throughout the world helps us understand the pandemic in better ways.
The science behind AR and the potential use of corticosteroids is undergoing an evolutionary phase. As more studies continue to search for the pros and cons of AR pharmacotherapy in this pandemic, the medical fraternity should keep an open eye on novel therapeutics in this field.
References:
1. Izquierdo-Domínguez A, Rojas-Lechuga MJ, Alobid I. Management of Allergic Diseases During COVID-19 Outbreak. Curr Allergy Asthma Rep. 2021;21(2):8. Published 2021 Feb 9. doi:10.1007/s11882-021-00989-x.
2. Hagemann J, Onorato GL, Jutel M, et al. Differentiation of COVID-19 signs and symptoms from allergic rhinitis and common cold: An ARIA-EAACI-GA2 LEN consensus. Allergy. 2021;76(8):2354-2366. doi:10.1111/all.14815.
3. Varshney J, Varshney H. Allergic Rhinitis: an Overview. Indian J Otolaryngol Head Neck Surg. 2015;67(2):143-149. doi:10.1007/s12070-015-0828-5.
4. Zhang Y, Zhang L. Management Practice of Allergic Rhinitis in China During the COVID-19 Pandemic. Allergy Asthma Immunol Res. 2020;12(4):738-742. doi:10.4168/aair.2020.12.4.738
5. Bousquet J, Akdis CA, Jutel M, et al. Intranasal corticosteroids in allergic rhinitis in COVID-19 infected patients: An ARIA-EAACI statement. Allergy. 2020;75(10):2440-2444. doi:10.1111/all.14302.
6. Ozturk AB, Baççıoğlu A, Soyer O, Civelek E, Şekerel BE, Bavbek S. Change in Allergy Practice during the COVID-19 Pandemic. Int Arch Allergy Immunol. 2021;182(1):49-52. doi:10.1159/000512079.
7. Shaker MS, Oppenheimer J, Grayson M, et al. COVID-19: Pandemic Contingency Planning for the Allergy and Immunology Clinic. J Allergy Clin Immunol Pract. 2020;8(5):1477-1488.e5. doi:10.1016/j.jaip.2020.03.012.
8. Lee JH, Lee Y, Lee SY, et al. Management of Allergic Patients During the COVID-19 Pandemic in Asia. Allergy Asthma Immunol Res. 2020;12(5):783-791. doi:10.4168/aair.2020.12.5.783
9. Klussmann, J. P., Lehmann, C., Grosheva, M., Sahin, K., Nagy, E., Szijártó, V., ... & Moesges, R. (2021). COVID-19: Azelastine nasal spray Reduces Virus-load In Nasal swabs (CARVIN). Early intervention with azelastine nasal sprays reduces viral load in SARS-CoV-2 infected patients. First report on a double-blind placebo-controlled phase II clinical trial.
10. Ge, S., Lu, J., Hou, Y., Lv, Y., Wang, C., & He, H. (2021). Azelastine inhibits viropexis of SARS-CoV-2 spike pseudovirus by binding to SARS-CoV-2 entry receptor ACE2. Virology, 560, 110–115. https://doi.org/10.1016/j.virol.2021.05.009 Dr Kamal Kant Kohli-MBBS, DTCD- a chest specialist with more than 30 years of practice and a flair for writing clinical articles, Dr Kamal Kant Kohli joined Medical Dialogues as a Chief Editor of Medical News. Besides writing articles, as an editor, he proofreads and verifies all the medical content published on Medical Dialogues including those coming from journals, studies,medical conferences,guidelines etc. Before Joining Medical Dialogues, he has served at important positions in the medical industry in India including as the Hony. Secretary of the Delhi Medical Association as well as the chairman of Anti-Quackery Committee in Delhi and worked with other Medical Councils in India. Email: editorial@medicaldialogues.in. Contact no. 011-43720751