Respiratory Allergies in India and Clinical Review of Montelukast Fexofenadine Combination in its Management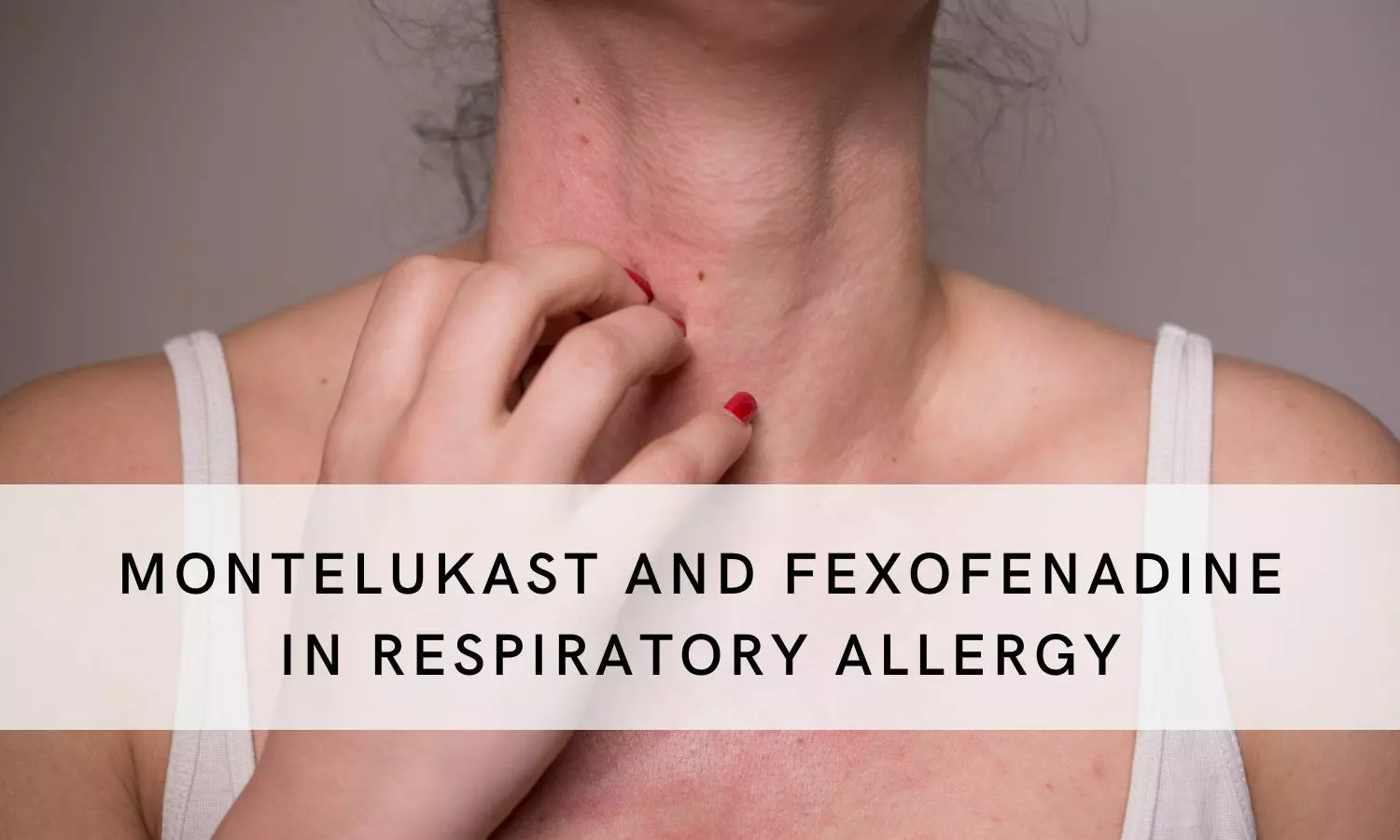 Allergic respiratory diseases (ARDs) are caused by the production of IgE antibodies to airborne allergens, causing various clinical manifestations in the upper and lower airways. With 25% of the population of India now sensitized to different environmental allergens, Indian patients are increasingly suffering from ARDs- bronchial asthma, rhinitis, and rhinoconjunctivitis. (1)
Among the ARDs,10%–25% of the global population is affected by allergic rhinitis (AR), making it a major cause of health burden, and hampered productivity (2) India has also seen a striking increase in allergic rhinitis and asthma prevalence, with estimates revealing that about 37.9 million Indians have asthma. With 60-70 % of patients in India suffering from allergic rhinitis and asthma simultaneously, coupled with the fact that certain high-cost pharmacological agents are unaffordable to most people in our country; thus, managing respiratory allergies is practically challenging for physicians in our practice settings (3)
The clinical spectrum of ARDs-Allergic inflammatory symptoms is manifested in the upper and lower airways, though the degree/intensity might vary. ARD's clinical manifestations are variable and may be related to specific allergen exposure.
The ARD concept is based on the disease's allergic genesis, and its clinical range encompasses a diverse variety of clinical symptoms-conjunctivitis, rhinitis, and asthma. (4)
Although not all clinical symptoms of ARD might be present concurrently in patients, the risk of acquiring them in the future remains high. So, regardless of whether a patient has symptoms of co-existing asthma, rhinitis, and rhinoconjunctivitis or not, there is unanimous agreement on a thorough, comprehensive evaluation of the airways while treating them. (4)
The burden of allergic diseases in India- As India continues to deal with high levels of air pollution,77% of the Indian population is regularly exposed to particulate matter (PM 2.5), which is strongly linked to allergy, asthma exacerbations, cardiovascular events, and premature deaths. (3) Studies consistently highlight that by interfering with cognitive and emotional functioning, AR symptoms can significantly impact a patient's quality of life. (2)
In India, allergy is yet to be recognized as a distinct specialty, and training is limited and almost always integrated with respiratory medicine. (3)
To combat the rising burden of allergic respiratory diseases, there is an urgent need for a multifaceted, collaborative strategy to optimize the treatment modalities and life quality standards of such patients in India. (3)
Allergic Rhinitis and Asthma: Need for a Unified Treatment Approach-More than one-third of ARD patients with upper airway clinical symptoms exhibit bronchial hyperresponsiveness. Although no one mechanism thoroughly explains the rhinitis-asthma link, the most commonly acknowledged route is the systemic dissemination of allergic inflammatory mediators. (4)

Review of Guideline Recommendations-
Emphasizing the relationship between asthma and rhinitis, studies document that evaluation of allergic rhinitis must always include the simultaneous assessment of asthma. (4)
BSACI (British Society for Allergy and Clinical Immunology) guidelines highlight that patients with comorbid asthma and rhinitis receiving early treatment for allergic rhinitis have a significantly lower risk of hospitalization or emergency department visits for asthma; thus, confirming that treatment of rhinitis is strongly associated with improvement of asthma. (4)
The Allergic Rhinitis and its Impact on Asthma (ARIA) guidelines note that Allergic rhinitis should be considered a significant risk factor for asthma. So, a combined strategy for treating upper and lower airway diseases is strongly recommended. (4)
Accepting the "one airway, one disease" concept, allergic respiratory diseases (ARDs) are now treated as a single entity encompassing rhinitis, rhinoconjunctivitis, and asthma, with targeted therapies to address them together. (4)
Treatment overview -Rationale of Combination Drug Treatment (5)
Histamines play a role in the pathophysiology of allergic rhinitis and lead to symptoms including rhinorrhea, nasal itching, and sneezing. Leukotrienes, on the other hand, primarily result in increases in vascular permeability and nasal airway resistance.
Therefore, blocking these two mediators with antihistamine (AHs)s and leukotriene receptor antagonists (LTRAs) offers more advantages than inhibiting one mediator. Also, since compliance is crucial for effective management and the best results in allergic rhinitis, combining an LTRA and an AH into a single formulation may be a promising therapy option
Fexofenadine-Montelukast Combination Beneficial Over Monotherapy- Long-term research confirms that Fexofenadine, along with Montelukast, is more effective than antihistamines alone in the control of AR symptoms. (2)

What makes these two drugs stand out: Analyzing the individual drug characteristics: Second-generation antihistamines have tremendously grown in popularity due to their better efficacy and decreased frequency of side effects compared to their first-generation predecessors. Fexofenadine is a second-generation H1 receptor antagonist that is selective, nonsedating, and has been the focus of attention owing to its additional effect on inflammatory mediators. (2)
Among LTRAs, Montelukast is a highly selective leukotriene D4 type I receptor antagonist with potent and established anti-inflammatory and bronchodilator effects. (2)
Clinical Evidence supporting Montelukast and Fexofenadine Combination Drug therapy –
Highlights from Indian Studies
A major post-marketing surveillance study conducted in India noted that montelukast 10 mg plus fexofenadine 120 mg FDC administered once daily for 14 days in 809 patients was significantly (P<0.0001) effective in reducing all symptoms of allergic rhinitis in patients. (8)
A study aimed to compare the efficacy, safety, and cost-effectiveness of montelukast-levocetirizine with montelukast-fexofenadine combination in patients with AR. Measuring the total nasal symptom score (TNSS) as the primary outcome parameter, the team noted that the mean change of TNSS, i.e, 9.46 was significant (P < 0.05) in the montelukast-fexofenadine group, thus affirming that the decrease in TNSS was more in the montelukast-fexofenadine group. (2)
What Global Studies Highlight:
An interesting study aimed to assess the bioequivalence of fexofenadine 120 mg+montelukast 10 mg fixed-dose combination (bilayered FDC of fexofenadine+montelukast) with separate formulations of Fexofenadine and montelukast, administered concurrently at the same dose levels. The research team concluded that the FDC of Fexofenadine 120 mg plus montelukast 10 mg was bioequivalent with concurrent administration of Fexofenadine 120 mg and montelukast 10 mg. The group highlighted that the unique bilayered FDC of fexofenadine+montelukast provides the convenience of administration as a single tablet and thus improves compliance to the prescribed treatment. (5)
Another study assessed the efficacy of concomitant Fexofenadine and montelukast therapy in a three-week trial in patients with seasonal allergic rhinitis. The results showed significantly better control of nasal congestion in those receiving Fexofenadine and montelukast than in those receiving only Fexofenadine. The fexofenadine and montelukast group showed statistically significant after the 9th, 10th, 11th, and 13th days for nasal congestion (P = .003), itching (P =.009), sneezing (P =.004), and rhinorrhea (P = .001), respectively. On day 21, nasal congestion scores were significantly better only in the fexofenadine and montelukast group Also, the combination therapy resulted in a statistically significant average decline in total nasal resistance from 0.43 Pa/cm3 /s to 0.27 Pa/cm3 /s (P ¼ .027) while it was 0.42 Pa/cm3 / s to 0.32 Pa/cm3 /s with fexofenadine alone. (6)
The results from another study revealed the combination of Fexofenadine with montelukast caused a reduction of the serum soluble intracellular adhesion molecule (s-ICAM-1) concentration. It alleviated both nasal and asthma symptoms in patients with persistent allergic rhinitis and asthma. (7)
Take Home Message-
One in every six persons in India suffers from allergic rhinitis (5).
Allergic rhinitis symptoms significantly hamper the quality of life, including social life, sleep, school, and work.
Patients suffering from allergic rhinitis are at an increased risk of developing asthma.
Antiallergic therapy is currently centered on avoiding allergens, symptomatic medication, targeted immunotherapy, and patient education. Two major drug classes of AR therapy include oral H1-antihistaminics (AH) and leukotriene receptor antagonists (LTRAs). (2)
The combination therapy of montelukast with antihistaminic provides enhanced clinical benefits and a complementary approach, thereby effectively reducing AR and asthma symptoms.
With a bilayered fixed-dose combination tablet of Fexofenatidine -Montelukast, patients suffering from allergic rhinitis now have a more convenient choice over dual drug therapy, thus drastically increasing treatment compliance and patient adherence.
Adapted from:
1. Bhattacharya, K., Sircar, G., Dasgupta, A., & Bhattacharya, S. G. (2018). Spectrum of allergens and allergen biology in India. International archives of allergy and immunology, 177(3), 219-237.
2. Mahatme MS, Dakhale GN, Tadke K, Hiware SK, Dudhgaonkar SD, Wankhede S. Comparison of efficacy, safety, and cost-effectiveness of montelukast-levocetirizine and montelukast-fexofenadine in patients of allergic rhinitis: A randomized, double-blind clinical trial. Indian J Pharmacol. 2016 Nov-Dec;48(6):649-653. doi: 10.4103/0253-7613.194854. PMID: 28066101; PMCID: PMC5155464
3. Krishna, M. T., Mahesh, P. A., Vedanthan, P. K., Mehta, V., Moitra, S., & Christopher, D. J. (2020). The burden of allergic diseases in the Indian subcontinent: barriers and challenges. The Lancet Global Health, 8(4), e478-e479.
4. Navarro, A. M., Delgado, J., Muñoz‐Cano, R. M., Dordal, M. T., Valero, A., Quirce, S., & ARD Study Group. (2017). Allergic respiratory disease (ARD), setting forth the basics: proposals of an expert consensus report. Clinical and translational allergy, 7(1), 16.
5. Walekar, A., Chodankar, D., Naqvi, M., & Trivedi, C. (2017). Assessment of bioequivalence of fexofenadine and montelukast fixed-dose combination tablet versus separate formulations of the individual components at the same dose levels. Indian Journal of Pharmaceutical Sciences, 78(5), 651-656.
6. Cingi C, Gunhan K, Gage-White L, Unlu H. Efficacy of leukotriene antagonists as concomitant therapy in allergic rhinitis. Laryngoscope 2010;120:1718-23.
7. Ciebiada M, Gorska-Ciebiada M, Gorski P. Fexofenadine with either montelukast or a low-dose inhaled corticosteroid (fluticasone) in the treatment of patients with persistent allergic rhinitis and newly diagnosed asthma. Arch Med Sci 2009;5:564-9.
8. Naik M, Khandeparkar P, Nayak A, Mukaddam Q. Efficacy and safety of montelukast plus fexofenadine fixed-dose combination in allergic rhinitis: Results of a post-marketing study in India. Indian Medical Gazette 2013:314-8. Dr Kamal Kant Kohli-MBBS, DTCD- a chest specialist with more than 30 years of practice and a flair for writing clinical articles, Dr Kamal Kant Kohli joined Medical Dialogues as a Chief Editor of Medical News. Besides writing articles, as an editor, he proofreads and verifies all the medical content published on Medical Dialogues including those coming from journals, studies,medical conferences,guidelines etc. Before Joining Medical Dialogues, he has served at important positions in the medical industry in India including as the Hony. Secretary of the Delhi Medical Association as well as the chairman of Anti-Quackery Committee in Delhi and worked with other Medical Councils in India. Email: editorial@medicaldialogues.in. Contact no. 011-43720751