Fake Disability certificate for Promotion: Three Civil Surgeons face Scrutiny, DEMOTION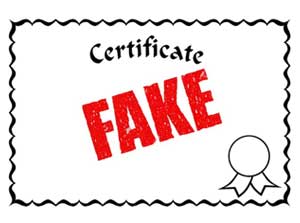 New Delhi
: Three civil surgeons in the area are facing stringent scrutiny on account of allegedly submitting fake disability certificates in order to take quota promotion from the post of senior medical officers to their current post of Civil Surgeons. The matter came to light after a recent scrutiny by the state government.  As the inquiry reports pour in, the doctors now face action which may include Demotion from their posts
The disability certification norms have set certain criteria for eligibility for promotion. Those having more than 40% of disability are eligible for quota promotion.
It is reported that the disability suffered by the three government doctors eligible for the post of civil surgeons allegedly did not meet the eligibility criteria yet they took advantage on the basis of fake certificates.
The initial allegations against the three were made by two senior doctors in the area, themselves disabled, who threw accusation on the veracity of the submission made by the doctors and also in some cases questioned the actual disability of the doctors
According to the Daily
Tribune
, as soon as the matter came to light, Additional Chief Secretary, Health, Satish Chandra asked Government Medical College, Patiala, to form a group of three experts to examine the disability certificates of these doctors as well as to submit a report within 15 days
The report submitted by Government Medical College, Patiala states the following:


Dr Singh, Civil Surgeon, Ludhiana, was found 24 per cent disabled which was in contradiction to the certificate of 45 per cent disabled submitted by him. His certificate had mentioned that he was suffering from forward bending of spine and ankle disability. He has now been disqualified from the promotion.


Dr Singh, Civil Surgeon, Kapurthala submitted a certificate of 53% disability while it was found to be 40.6%. He can still hold his post since after reviewing the percentage of disability stands above 40%. The matter will be now further investigated


The disability of one Dr Gupta, Civil Surgeon Sangrur remains in question and yet undetermined as the case was forwarded to PGI due to unavailability of a neurologist in the area.


Sources said that the case pertaining to Dr Gupta was handed over to PGI keeping in mind the authenticity of the probe.
Dr B Singh was the only doctor out of six doctors to be categorized as disabled as per a list of government physically challenged doctors prepared on January 17, 2013. The remaining two, were included in the list just before their promotions from the post of Senior Medical Officer to the post of Civil Surgeon were due. This also became a bone of contention with the other disabled candidates
The findings of the re-examination report have received confirmation from Satish Chandra, Additional Chief Secretary, Health. The report would now be forwarded to CMO and Commissioner for Disability from where they had got the instructions to probe the matter, who will finally take call in the matter.
Also Read: 
Mumbai : Council Complaint against doctor for issuing fake disability certificates