Fake Doctors, Fake Medical Council- The story so far in Kolkata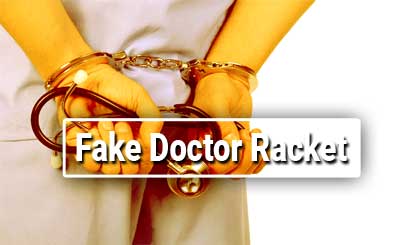 West Bengal: The move of the Criminal Investigation Department (CID) to begin its investigation to weed out fake medical practitioners in the state of West Bengal, seems to have opened a pandora's box, since its initiation. Not only, is the department finding the increasing existence of these quacks, that too in very prominent areas including some government hospitals, it has also unearthed a fake medical board, that certify's their existance.


It is reported that,  during the initiation of the investigation, authorities nabbed around 3 quacks in a matter of 10 days that too from state-run healthcare centres. HT reports that these 3, now identified as Kaiser Alam, Khushinath Haldar and Snehasis Chakraborty had been treating patients for years before they ran out of luck. One of them, Alam, had even worked at a corporate hospital, Ruby-hall as a RMO for a year adds India Blooms.

On 27th May, 2017 , West Bengal CID arrested another fake doctor, Dr Naren Pandey alias Narendra Pandey who was attached with the city's Bellevue Clinic and Medland Diagnostic Institute, Entally Kolkata. The person was arrested from his chamber cum diagnostic centre at Entally and claimed to  an MD allergy and asthma specialist, associated with several clinics in the city. This person, reports TOI, was also using a MCI registration number (51339). When MCI scrutinized the records, they found that the number was allocated to another doctor, a resident of Moore Avenue.

30 year old Fake Medical Council

The authorities during their hunt for fake medical practitioners, also seem to have stumbled upon an illegal medical board that had been operating from Barasat for three decades and had duped thousands of medical students from across India by offering fake degrees. The targets were generally huge number of dropouts and foreign students which were provided counterfeit  MBBS (AM), BDS, BHMS, BAMS, GNM, ANM, PhD, DMLT, X-Ray technician and even veterinary degrees, affiliated  to various "fake" medical colleges under the banner of Alternative Medical Council, spread across India and abroad. Authorities also recovered around 560 fake degrees from the premises.

According to agency sources, the alleged kingpin of the racket,Ramesh Chandra Baidya (52) provided fake degrees to a huge number of foreign students coming in from the USA, Italy, Sri Lanka, Nepal, Bangladesh, Russia, Malaysia and Africa in exchange for money. The price of a fake degree, adds Indian Express would run into lakhs, varying from client to client, and Baidya would allegedly charge "an extra Rs 10,000 for a gold medal".. "Degrees were made available for clients within minutes in exchange for money," said an official. He was also finally arrested on 27th May from the Kolkata airport, from where he was trying to flee.

What comes even more shocking that that this board is on the list of 23 fake boards against which CID had mulling action against, implying all these activities are uncovering just the tip of the iceberg.

Hospitals Alerted

Following the major disclosures made by the CID, the state Health department has woken up to the menace and  now alerted all hospitals on the backdrop of incidents of arrest of fake doctors in the state, announcing that it would take further necessary steps on the basis of the findings of the probe that the Criminal Investigation Department (CID) is conducting.