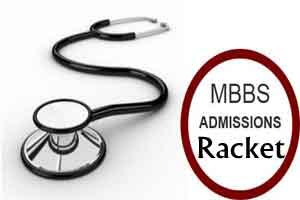 New Delhi: A 30-year-old computer graduate, who along with his gang allegedly duped people of several lakhs of rupees on the pretext of securing admissions to medical institutes across the country, was arrested.
The main accused, Sandeep Kumar Gupta was arrested earlier this week, a senior police official said, adding he is a graduate in computer applications and a native of Uttar Pradesh.
The other persons in Gupta's gang have been identified as Abhishek Patel and Amit Sinha (both engineers), Imran Khan and Birender Kumar (MBA holders), one Bhaskar who has a bachelor's degree in Ayurvedic medicines, Pankaj and Ashok Rawat, he said.
Other members of the racket, whose exact identities are yet to be verified, are believed to be doctors, the official said.
The racket came under the scanner when a man, from whom the gang had allegedly demanded Rs 30 lakh for his son's admission in a leading institute in Bangalore, approached the police.
During interrogation, it emerged that Gupta had been arrested for similar charges in Varanasi before, police said.
So far, the police have ascertained the identitied of five persons whom the racket targeted and allegedly duped them of around Rs 53.27 lakh. While two of the victims are from Haryana, one each is from Mumbai, Rajasthan and Assam, they said.
Detailing the modus operandi of the gang, the police said the gang members would allegedly fetch data of aspirants who could not clear the entrance exams in the Pre Medical Tests. Then, they would contact their parents claiming that they could secure admission of their wards in leading institutes under management quota.
Later, one of the members of the racket would approach them pretending to be from the management and take the target into confidence. At times, they would issue forged admission confirmation letters and get hostel forms filled up at the fee counters of the colleges, they said.
"Efforts are on to track down the other members," the senior official added.
0 comment(s) on Fake MBBS admission racket busted in New Delhi, kingpin arrested