Fake MBBS Certificate, Medical Council Registration: How a nurse fooled GVK EMRI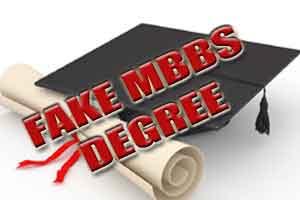 Chennai: Private medical institutions are repeatedly turning out to be a target of few people to fake themselves as doctors. The latest case is that of GVK Emergency Management and Research Institute (EMRI) which was duped by a registered nurse who joined the institution faking herself to be a doctor, by submitting fake MBBS degree and council registration
The Tamil Nadu Health Systems Project (TNHSP) also issued a notice in which it directed GVK Emergency Management and Research Institute (EMRI) to give an explanation on its recruitment process.
The matter came into light after a 26-year old; Rachel Jenifer, a resident of Vellore, disguised herself as doctor by allegedly providing
fake MBBS
Certificate and fake medical council registration number to EMRI during the process of recruitment. She provided the certificate for MBBS which mentioned to be obtained from Kuppam Medical College and Tamil Nadu Medical Council registration.
According to media reports, the Rachel appeared in the interview in 2017. She was then recruited as a doctor at GVK EMRI's ECC in Injambakkam. After the recruitment, she underwent training at GVK EMRI's head office in Hyderabad and ECC in Chromepet.
Read Also: Illegal MTPs at Gurugram: Clinic Sealed; Owner, Fake Doctor Arrested
While going through the attendance record, the health officials found that Rachel was absent from the duty during the last 11 months. On verification, it was found that the MBBS certificate and medical council registration number provided by her to be fake. The health official further informed that she had two curriculum vitae – one as nurse and the other as a doctor.
A senior officer of GVK-EMRI  told The Hindu, "On one bio data, we found it mentioned that she has worked as a doctor in a private hospital in Chennai, and a nurse in a corporate hospital in the city." He also said that Rachel is a qualified nurse and is registered with the Tamil Nadu Nurses and Midwives Council.
"The Director of Medical Services has been informed, and the case has been referred to the Joint Director of Tiruvallur for inquiry. We have double-checked every doctor recruited by GVK EMRI to verify their credentials. We asked them to check all the 35 doctors on board at the four ECCs and head office and their credentials were verified to be true," TNHSP official further informed The Hindu.
GVK EMRI is now conducting a preliminary inquiry on the matter.