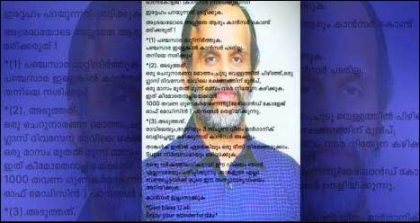 False claims including Simple lemon drink can effectively cure cancer and that it is more effective than chemotherapy are being spread in the leading oncologist's name
KOCHI: Off lately Facebook and other social media platforms are getting full of messages unsolicited medical advices that have no backing in science. What is also unfortunate that people are now using the names of prominent doctors to back their claims. Bringing forward one such case of cybercrime, a prominent oncologist of Kochi, Dr V P Gangadharan recently filed a complaint to the police stating that some unknown sources are spreading a fake message on his name and photograph.
Dr Gangadharan was indeed shocked when he came across false claims about curing cancer, with his picture on the background. The said messages have been doing rounds on social media for quite some time now.
"The message written over a picture of Dr  Gangadharan claims that the doctor has been trying to spread this message for the past two years. It asks to keep away from sugar, cancer will be cured on its own. Consume organic oil daily to get relief from cancer, it states," police told TOI 
The oncologist in his complaint pointed out that the message is indeed  misleading the public on social media platform by giving them false information that a simple lemon drink can cure cancer if the person drinks it for 3-4 months regularly. The message not only gives a surety that the simple lemon drink can effectively cure cancer, moreover, it is more effective than chemotherapy
Dr Gangadharan urged the officers to take necessary action against those circulate such messages.
The police have registered the case under cybercrime cell and started the further investigation. Cyber police officers said that action would be initiated on the basis of the complaint. "We urge people to not fall for such claims," said an officer.
Medical Dialogues team had earlier reported that a Neurologist of Medanta Hospital had filed a complaint against an unidentified man for allegedly for using his name and his institute's name for illegal organ trade.
Read also: Medanta Neurologist finds his fake Facebook profile Soliciting organ trade, files FIR
0 comment(s) on Fake Cancer Claims: Prominent Oncologist files police complaint on circulation of messages in his name