FDA advisory board gives Nod to New Cholesterol Drug With Conditions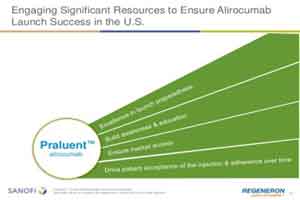 The FDA advisory panel has given its nod to Praulent, a drug manufactured by Sanofi. The panel voted 13-3 in favor of the drug that is known to lower LDL, so-called "bad" cholesterol and therefore could help prevent heart attacks and other cardiovascular health problems.

Praluent works by blocking a protein called PCSK9 that normally stops the liver from being able to fully clear LDL cholesterol from the bloodstream. Tests have shown that by taking the new drug, patients have reduced their cholesterol by between 40 and 65 percent, even if they have previously been taking cholesterol-managing statins such as Lipitor. The panelists however raised concerns on the use of the drug to treat  familial hypercholesterolemia, where people have high cholesterol due to genetic reasons.

Further the panel stressed on the need of studies to test the impact of the drug on different patient groups as well as the long run implications of the drug, the nod seems to be coming as Praulent showed  "no marked disparities in deaths, serious adverse events or adverse events leading to discontinuation" of the drug in the FDA backed studies.
The next stage for the drug is set up for the F.D.A approval. Although the approval of the drug from the advisory committee does not guarantee an F.D.A approval, most decisions of the administration and the advisory board are in sync. Should the drug be approved, it is said to bring a revolutionary change in the treatment of cholesterol as well as management of cardio-vascular diseases.