Featured : Career prospects in Public Health, Hospital Management and Health Informatics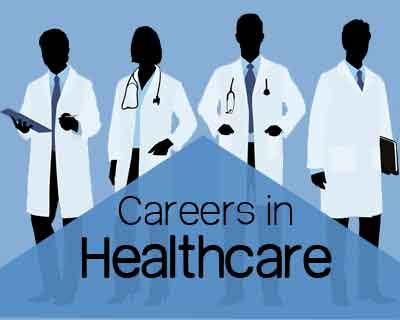 The advent of technology and increasing knowledge base has ushered us into an era where several boundaries are being dissolved and the need for some completely new and novel professions is emerging. Medical Practitioners are not just focusing on their areas of specialization, but are more often seen taking additional managerial responsibilities whether coming in form of hospital administration, community engagement and even information managent
In the past few years,two of such professions in healthcare sector have really taken the limelight. These include healthcare management and health informatics.


Public Health and Healthcare Management


Health Informatics


Public Health and Healthcare Management
The newfound awareness and emphasis on quality of health care and patient satisfaction has created a stupendous need for persons with a professional qualification in Public Health and Healthcare Management.The students with a qualification in Public Health and Healthcare management can assume any of the below mentioned roles:
Public Health Management: Public health and healthcare management is a diverse field which encompasses activities ranging from identifying diseases to creating public policy to help fight various disease outbreaks. The professionals in this field are expected to perform at various platforms from creating new policies for improving societal health to decoding the breakout of a new endemic.Being a public health professional enables you to work around the world, address health problems of communities as a whole, and influence policies that affect the health of societies. The main advantages of this profession are that one is able to put his bit in the overall betterment of the society earning mental satisfaction and that too when working at handsome positions in some of the very prestigious institutions like WHO, the Bill and Melinda Gates Foundation, Rockefellers foundation, US medical aid Foundation etc.
Healthcare Management:The role of hospital administrator revolves around the overall organization and management of the hospital ensuring its smooth functioning through ascertaining proper co-ordination between the various departments of the hospital, ensuring the functionality of the equipment, existence of streamlined flow of medical supplies and above all the maintenance of required standards of cleanliness. The emphasis is on quality, efficiency and cost containment with the main objective of ensuring the complete satisfaction of the patient. With the growing demands of JCI/NABH/ISO acrredited hospitals in the country, the need for a hospital administrator with requisite qualifications is no longer a voluntary addition, but a basic requirement.
Education and Employment Opportunities:
This dynamic and challenging field of Public health and Healthcare management demands the professionals to possess variety of skills and degrees to better understand and ensure that the employees, communities, and the public have the resources, knowledge and abilities to live healthy, productive lives. Whether you like to crunch numbers, conduct laboratory or field research, formulate policy, or work directly with people to help improve their health, there is a place for you in the field of public health. Aspiring public health managers and hospital administrators can formally enter the field by enrolling in a post graduate courses in Public Health and Healthcare management. A variety of opportunities are available in the Public Health field inclusive of positions like doctors, Health and Safety Engineers, Environmental Scientists, Healthcare Administrators, Biostatisticians, Epidemiologist, Community Health managers etc. Students enrolled in the Health Care Management specialization have the opportunity to develop proficiencies required by health care organizations, including those related to patient treatments, privacy issues, and cost-saving measures.
Health Informatics
Health informatics has evolved from the amalgamation of Healthcare industry with IT industry. Information Technology (IT) is playing a core role in every aspect of healthcare value chain ensuring faster adaptability of advanced technologies, reduction of service costs and provision of quality healthcare at affordable prices.
As information technology becomes more integral to healthcare, the demand for trained professionals who can design, improve and utilize clinical information systems continues to grow. After post graduate diploma in health informatics, one often takes a position as a health information manager. These professionals bridge the gap between health care practitioners and computer and data processing specialists and are responsible for maintaining and securing all patient records. They are often required to stay up-to-date in clinical guidelines and medical terminology. Even at the higher level of hospital hierarchy, Health informatics is now taking significant place, with top hospitals now creating a specific post of Chief Information Officer (CIO)
Health Informatics is expected to hit big time in the coming times as more and more information is now preferentially stored in the electronic format and the use and need of paper based records is becoming obsolete day by day. Health informatics professionals use their knowledge of healthcare, information systems, databases and information technology security to gather, store, interpret and manage the massive amount of data generated when care is provided to patients or during research using applications like EMRs, VNA, EHRs , CPOE , PACS etc.
Health information managers work in settings such as public health agencies, federal government agencies, hospitals, non-profit medical and health associations, pharmaceutical companies, physician group practices or insurance companies.Following career options are available after successful completion of a course in healthcare Informatics -Clinical Analyst, Clinical Informatics Manager,Clinical data analyst, health information resource manager, HI director, Chief information officer and IT consultant and Informatics Nurse.
The author of the article is associated with IGMPI India. The Institute offers Post Graduate and Executive Diploma programmes in various disciplines like: Public Health and Healthcare management, Health Informatics, Pharmacovigilance, Clinical Research, Medical Coding, Drug Discovery and Development, Medical Device Management, Nutrition and Dietetics and Certification in Clinical Nutrition. Based on various assessment paramenters, the quality based programmes have been approved by Quality Council of India (QCI), Government of India. The Institute has also been conferred with the prestigious Quality Council of India (QCI) - D.L. Shah National Quality Award – Certificate of Merit 2015 on its training initiatives.
For details about their faculty of Healthcare administration course, Please Visit www.fhaindia.org . For details in other courses, visit, www.igmpiindia.org