Yet Another Doctor Assaulted by Patient Kin, Once more Doctors call it a Strike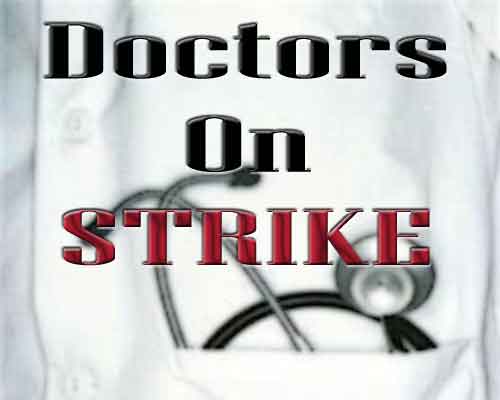 New Delhi: The resident doctors attached to Deen Dayal Upadhyay Hospital (DDU) were recently seen resorting to an indefinite strike after a resident doctor was assaulted by patient relatives during a night duty.
The incident took place on Thursday, when a woman patient was admitted to the hospital with a suspected poisoning. While waiting outside when their patient was being treated, her husband, Sunil, and his brother got into an argument and began verbally assaulting a woman doctor over the delay in her treatment. Soon, the argument heated up.
"The brothers told the police that they were objecting to a delay in treating their family member who was hospitalised because of suspected poisoning. The doctor, however, claimed that they turned aggressive despite the patient being attended promptly," Deputy Commissioner of Police (West), Vijay Kumar informed the Hindu.
When the Station House Officer (SHO) of Hari Nagar police station reached the spot, the clash between both the parties was at its worse. The authorities found the entrance closed and several patients waiting outside. Following the incident, the cops deployed there took them to a police booth at the hospital.
Counter Complaints were filed by both the parties in the case.The complaint filed by two of patient's relatives alleged assault by a resident doctor and a group of bouncers. Moreover, the woman doctor filed a counter-complaint alleging that the duo has assaulted her on the pretext of delay in treatment. Doctors pointed out that the male doctor was only in the picture to protect his colleague.
However, to make the matters worse, when the Vice president, of DDU Hospital RDA, Dr Arnab Pramanik reached the police station, he was allegedly assaulted by both the police as well as the attendants.
"The constable, Ashok Kumar, who came later, was under the influence of alcohol and dragged a senior resident doctor and everyone to the police station, where the attendants beat up the doctor again in front of the cops," Dr Gursimar Singh, president, RDA, DDU added while informing DNA about the incident.
This prompted the doctors at the hospital to call for a flash strike, and refusing to treat any patients till the matter was sorted
"Instead of acting against the patient's attendants who abused our colleague, the cops are trying to show that we got into a fight," Dr Arnab added. Doctors further claimed that they followed the protocol and called the helpline from the CMO's landline five times, but nobody picked up or returned the call.
As per the media reports, patient care has been affected at the hospital since Out-Patient Departments (OPD) remained dysfunctional on Friday leading the patients moving to other hospitals for treatment.