Fire incident in operation theatre in PGIMER, 150 safely evacuated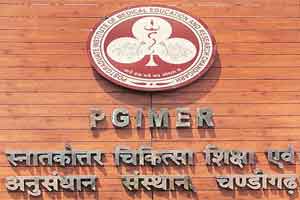 Chandigarh: A fire incident occurred in an operation theatre in the Post Graduate Institute of Medical Education and Research (PGIMER) here but all patients and staff were safely evacuated, a senior official said today.

The New Emergency OT complex has seven operation theatres which function round-the-clock throughout the year and at the time of the incident surgical procedures were going on in three operation theatre rooms, a PGIMER official said.

There was no loss of life of patients as well as staff posted in New Emergency OT, she said.

Wadwalkar said that at around1 am today, all the services were restored and patients shifted back to their concerned wards.

"Operation theatre No. 3 requires major repairs and functioning of the remaining OTs will be restored in the next 2-3 days. At present, alternative arrangements have been made in Advanced Trauma Centre and Nehru Hospital OTs," she said.

Wadwalkar said the PGIMER administration has constituted two committees for ascertaining the cause of the fire and working out an action plan for immediate repairs so that the normal patient care services are restored at the earliest.