Fortis Healthcare Stake Sale: Battle moves to Supreme Court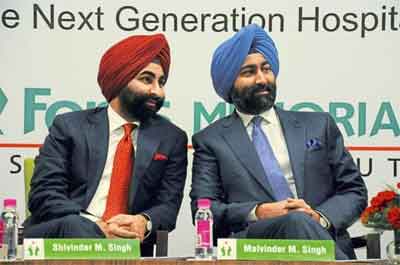 New Delhi: Moving ahead in the legal battle between Daiichi Sankyo and former Ranbaxy promoters Malvinder and Shivinder Singh, the Japanese firm Daiichi is reported to have now approached the Supreme Court to block the stake sale in Fortis Healthcare. In response to apex Court has directed former Ranbaxy promoters, Malvinder and Shivender Singh, to maintain status quo with regard to their stake in Fortis Healthcare Ltd.
Daiichi's latest petition with the apex court said that the company would face "irreparable loss" unless the Supreme Court took steps to prevent "violation" of specific orders passed by the Delhi High Court in March and June. "Grave prejudice would be caused if the interim relief is not granted to the petitioners, " reports ET
Medical Dialogues team the Japanese Pharma giant has been trying to block the ex-ranbaxy promoters from selling their promoter stake, till the settlement of  Rs 3,500 crore from former Ranbaxy promoters, which was awarded to the company  by Singapore International Arbitration Centre (SIAC).
To block the Singh brothers from the sale of Fortis Healthcare and allied subsidiaries, Daiichi Sankyo knocked the Delhi High Court's door several times whereby in June the Delhi High Court directed the Singh brothers to not to sell any of their assets without informing the court.
Read also: Do Not Sell any assets without Permission: Delhi HC to Singh Brothers
In month of April, Medical Dialogues team had reported that Japanese firm Daiichi Sankyo had knocked the Delhi High Court's door over the sale of Religare Enterprises to Religare Health Insurance.
Recently, there were the rumors that IHH healthcare was planning to purchase Fortis stake. In response, the  pharma company had again knocked the doors of the high court to block the sale. However, IHH soon backed out of the deal, denying any stake purchase.
Read also: IHH Healthcare denies FORTIS stake purchase, shares tank
Daiichi has now also sought interim relief from the Supreme Court to ensure the brothers maintain their controlling stake in Fortis through Fortis Healthcare Holding. The petition requests the apex court to direct Oscar and RHC to take prior approval of Delhi High Court before changing shareholdings in their downstream companies "either directly or indirectly" adds ET.
In response to the petition, the court has directed the RHC Holdings Pvt Ltd and Oscar Investments Ltd to maintain "status quo" of Fortis Healthcare Holding's shareholding in Fortis Healthcare Ltd till the court hears the petition of Daichii.A bench consisting of justice Ranjan Gogoi  and Navin Sinha also issued a notice to the Singh brothers and others seeking their response before the next date of hearing.