Four month old Pakistani infant arrives in India for treatment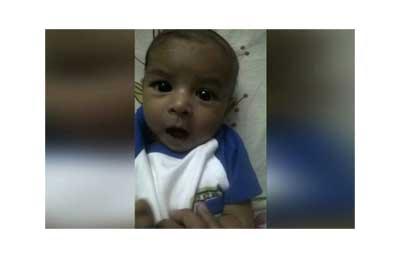 New Delhi: Four-month-old infant, Rohaan, who was slated to come to India for medical treatment banking on the assurance by External Affairs Minister Sushma Swaraj, arrived in Noida evening, and will undergo treatment at Jaypee Hospital in the national capital.
Rohaan, who has a hole in his heart, was referred to the multi-speciality hospital for treatment. However, in the backdrop of cross-border tension between India and Pakistan, his parents were unable to get medical visa for their child's treatment in India.
To this, the Indian minister swung into action and replied with a tweet, "No. The child will not suffer. Please contact Indian High Commission in Pakistan. We will give the medical visa."
Dr. Ashutosh Marwah, an eminent pediatric cardiologist along with pediatric cardiac surgeon Dr. Rajesh Sharma will investigate and treat Rohaan. Dr. Marwah will examine the disease and condition of the baby and Dr. Sharma will operate Rohaan.
"Rohaan has a hole in the heart along with a condition called D-TRANSPOSITION OF GREAT ARTERIES. In this condition, the heart and lung nerves come from the opposite direction and there will be flow of no oxygen-rich blood in the body. Due to the same, there would be complication in breathing from first month onward, hence the child starts breathing heavily. Weight of the child does not increase and due to repeated pneumonia, the chances of survival become less. The most important thing is that the disease should be treated soon enough, because after 8 months the disease becomes untreatable and the chances of death increases," said Marwah.
"Rohaan is suffering from a critical condition. He has hole in his heart and aorta, which should be on the left side of the heart, is coming from the right and pulmonary arteries are coming from the left which is exactly opposite to the general structure of the body. Due to this disease, Rohan's pressure of lungs goes up very quickly and there is shortage of clean blood in different parts of his body. This disease will be treated with the arterial switch with vsd closure method, in which aorta and pulmonary arteries will be removed from its place and adjusted to the right place. If this disease is treated within 4 month of birth, the chances of survival will be 100 percent. Since Rohaan has already completed 4 months, therefore the surgery will have 5 to 10 percent risk," added Sharma.
Rohan's parents, who reached the Jaypee Hospital said after preliminary investigation in Pakistan, it was discovered that there is a hole in the heart along with the problem with the heart's nerves. The treatment for such a major disease could not be done in Pakistan or other small hospital without inadequate facility or infrastructure. Therefore, the family was referred to Jaypee Hospital.